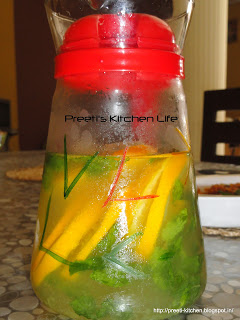 Last Updated on
This time I choose special theme in Blogging Marathon 20 in which
we can prepare recipes from our co-bloggers. I'm paired with
MY KITCHEN TRIALS
which hosted by RAAJNI, a great person and great cook as well. Under this theme I take
"
Orange Mint Water
" a great recipe of flavoured water, why I choose this recipe,
because it's simplicity and with innovation which easily made and I love drinks/ beverages and flavoured drink especially.
Nutrients in
oranges are plentiful and diverse. The fruit is low in calories, contains no
saturated fats or cholesterol, but is rich in dietary fiber, pectin, which is very effective
in persons with excess body weight. Oranges, like other citrus
fruits, is an excellent source. Vitamin C is a powerful natural antioxidant.
Consumption of foods rich in vitamin C helps body develop resistance against
infectious agents and scavenge harmful, pro-inflammatory free radicals
from the blood. It is also a very
good source of B-complex vitamins such as thiamin, pyridoxine, and folates.
These vitamins are essential in the sense that body requires them from external
sources to replenish.
Under this recipe, I add little lemon juice and sugar syrup just for little more taste…. for completely original recipe you can check on My Kitchen Trials…. Really it's awesome in taste and so refreshing drink for everyone and good option to serve compare to simple water.
Preparation Time: 5 Minutes
Cooking Time: 0 Minutes
Serving: 4 Glasses
Ingredients
1 Handful Fresh Mint
1 Orange, Cut into round slice
3-4 Glass Water
Half lemon Juice
1 Tbsp. Sugar Syrup
Ice Cubes
Directions
Combine all ingredients together in one pitcher and keep in refrigerator
till to 3-4 hours. Serve chilled as flavour water for beat the heat of summer
season.
Submit this recipe with following events:
Blogging Marathon page for the other Blogging Marathoners doing BM#20
Kids delight Hosted By Srivalli And Virtual Birthday Party event Hosted By Pallavi