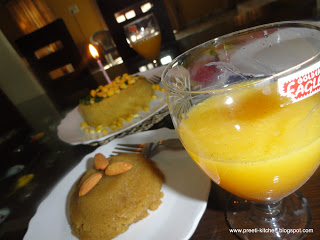 Last Updated on
Mocktails are mock cocktails, or those that do not contain any alcohol.
Any drink recipe can be modified by simply leaving the alcohol out, however
these recipes are some of the more common mocktails. These non-alcoholic drinks
are great for serving the entire family and a nice alternative for party guests
who prefer not to drink alcohol. Under mocktail, we merge 2-3 flavour together
and serve in one glass. One of mocktail, I was prepared on occasion of my blog
1st Month Anniversary.
Ingredients
1 glass orange juice
1 glass soda or 7up cold drink
2 tsp. lemon juice
½ tsp. black salt
A pinch of chaat masala
Ice cubes
Shaker
Method
In a shaker add all ingredients except ice cube and soda and mix well. Now
add ice cubes and soda and again shake it. Serve in mocktail or martini glass. For
garnish add or use lemon wedges.
Tips: Never fill full glass, just fill 1/2 half glass with drink.
submit this with following events