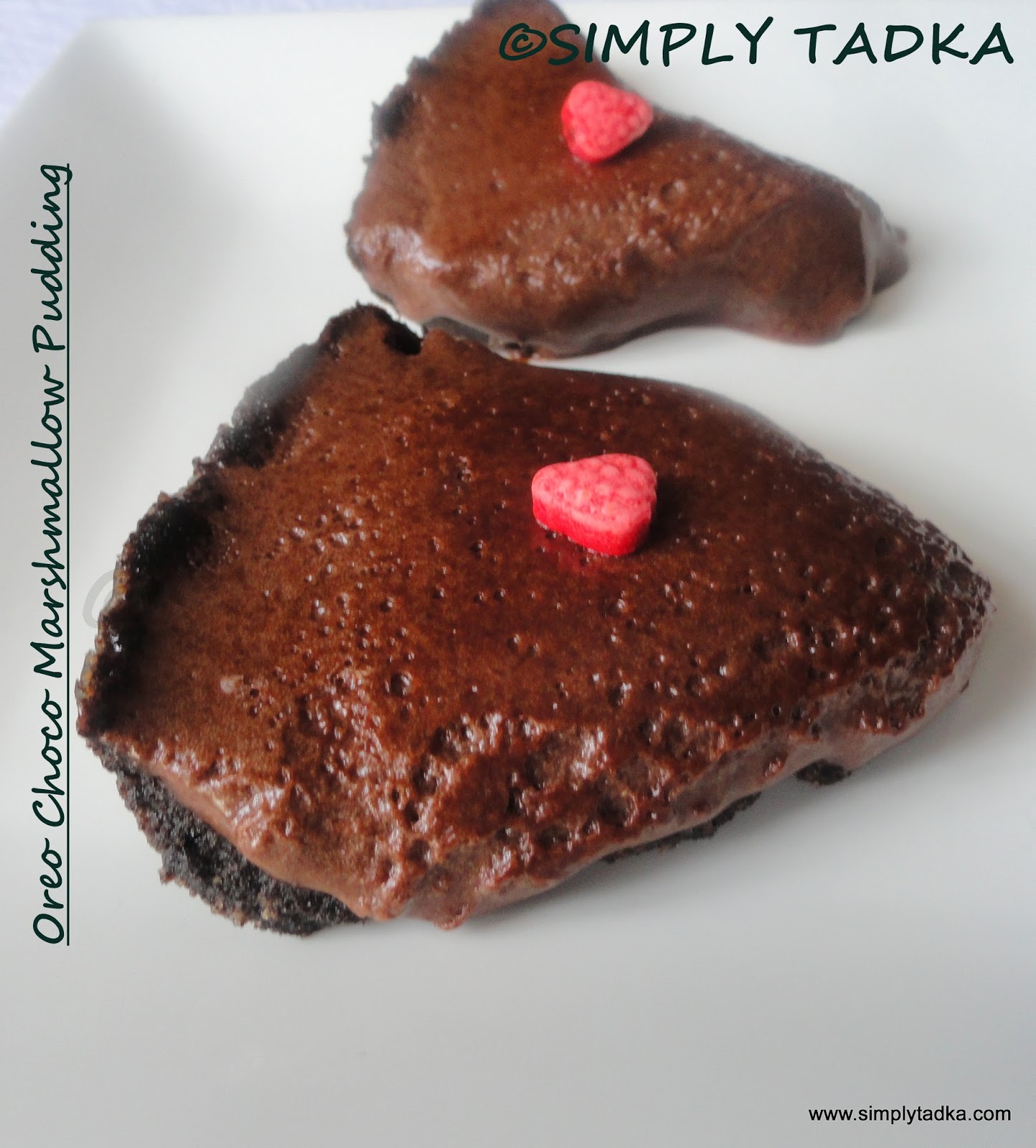 Last Updated on
Oreo Choco Marshmallow Pudding is one of the easiest
and tastiest pudding or even you can consider as no baking pie. I have never
made this type of fusion dessert with Oreo based crust and filled with basic
chocolate mousse. This is one of No Bake version of chilled dessert. This recipe
is completely chocolaty and creamy which easily dissolve in my mouth. You can
use whipped cream or cherries for garnishing. In this season, here strawberries
were not available, so i prefer candy.
Preparation
Time: 4 Hours
Cooking
Time: 30 Minutes
Servings: 3
Category:
Fusion
Ingredients:
For Oreo Crust
25 Oreo Cookies, crushed
1/2 Cup Butter, melted
For
Chocolate Liquid
2 Cup Cooking Chocolate, Semi sweet
1 1/2 Cup Marshmallow
1/3 Cup Milk
1/2 Tsp. Vanilla Essence
1 Cup Heavy Cream
Instructions:
Melt the chocolate with milk in double boiler
or in microwave.
Add marshmallow and vanilla essence. Keep stirring
till to smooth consistency.
Keep aside this chocolate liquid to cool.
Crush the cookies till to smooth powder form
in blender.
Gently mix the melted butter in crushed
cookies.
Transfer this mixture into tart or pie mould
and press them as thick layered crust.
Bake it for 3-4 minutes. It's an optional
step. Keep aside to cool.
Whisk the cream with little sugar till to frothy
and gently fold with chocolate liquid.
Pour the liquid on the top of crust. Keep in
freeze for 3-4 hours to set.
Garnish with cream or cherries.
Note:
You can skip the baking step, instead of this
keep crust in freeze for 1 hour to set.
Adjust the sweetness according to your taste.
Enter your email address:
Delivered by FeedBurner