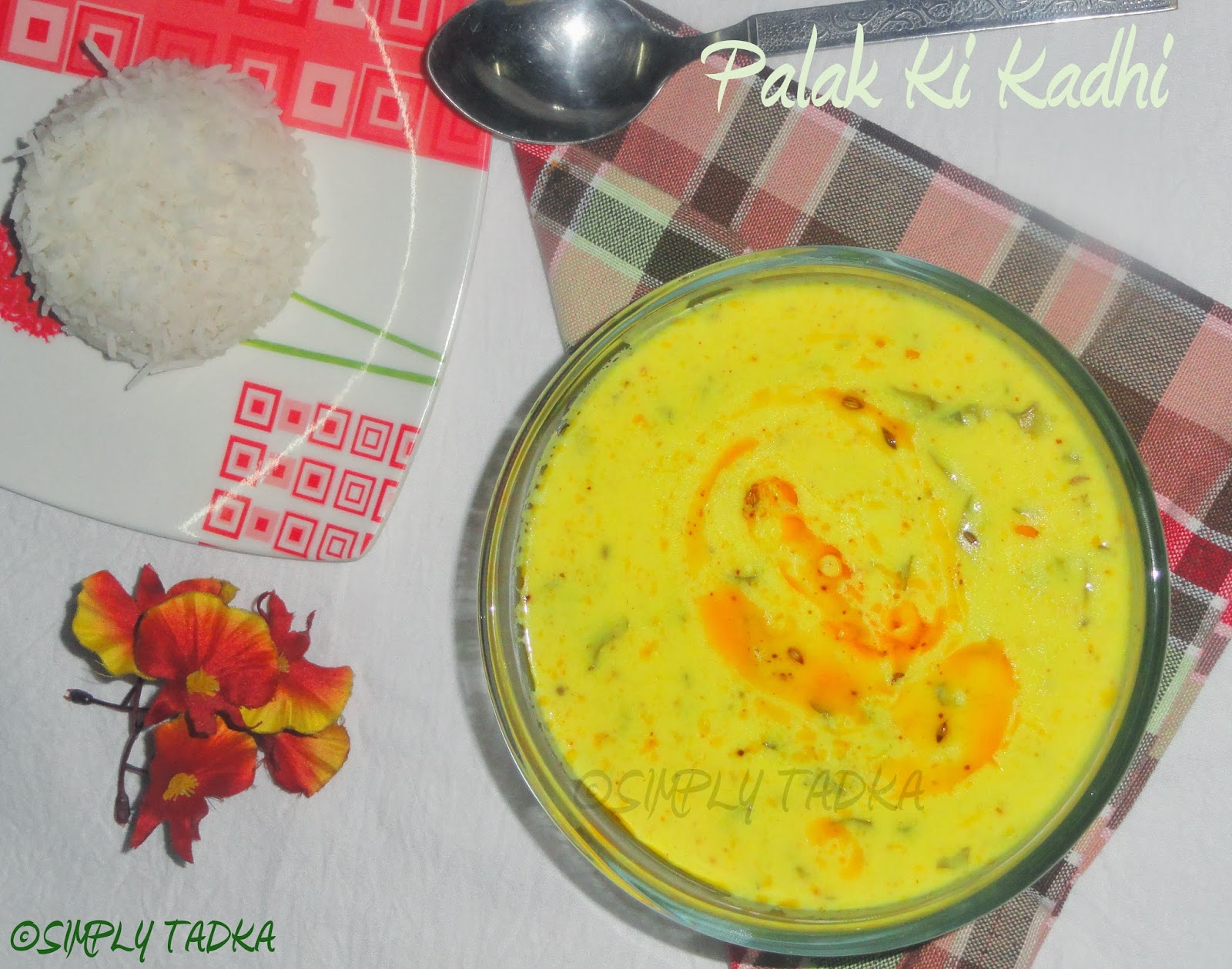 Last Updated on
Spinach kadhi or palak ki kadhi is combination of fresh spinach leaves cooked with yogurt, gram flour and spices. Spinach has a rich
source of minerals and proteins. As kids, we were not preferred to eat green
vegetables, but My mom always tried to use green leafy vegetables especially spinach
in curries and kadhi.
Palak ki kadhi is really spicy and delicious in taste
and good accompaniment with rice and puris. Kadhi is yogurt based curry which
serves with rice, khichdi and pulao but my father and uncles mostly like to eat
puris with kadhi. I prefer to use baby spinach leaves for kadhi and gravies
which are tastier and can be eaten raw.
Preparation
Time: 20 Minutes
Cooking
Time: 45 Minutes
Servings: 4
Category:
Kadhi & Dals
Ingredients:
1 Small Bunch of Spinach, chopped
4 Cup Sour
Buttermilk (lassi)
2 Tbsp.
Besan/ Gram Flour
1Cup water
Salt to
taste
1 Tbsp.
Coriander Powder
1 Tsp. Red
Chilies Powder
1 Tsp.
Turmeric Powder
Pinch of
Asafoetida
1 Tsp. Cumin
Seeds
1/2 Tsp. Fenugreek
Seeds
3-4 Whole Red
Chilies, dried
2 Tbsp. Ghee
Instructions:
Take bunch of spinach, clean and chop the
fresh leaves, keep aside.
Whisk together buttermilk, besan, salt,
turmeric powder, coriander and red chili power as smooth mixture using hand
blender.
Heat the ghee in deep heavy bottom pan and
add cumin, fenugreek seeds, asafoetida and red chili.
When they
starts splutter, add buttermilk mixture and cook this on a medium flame.
When kadhi
start boiling, add chopped spinach and stir continuously.
Simmer and
allow cooking slowly for 30-40 minutes.
Mix well and
turnoff the flame. Kadhi should have to slightly thick.
Heat 2 tsp.
ghee separately and add little red chilies powder and pour
this tadka into the kadhi.
Now kadhi is
ready to serve with boil rice or puris.
Tags:
How to prepare palak kadhi, spinach kadhi, spinach flavoured kadhi and dals,
easy recipes of dal and kadhi, kadhi recipes, lunch and dinner menus, main
course recipes, curd and yogurt based recipes, spinach recipes., palak ki kadhi, easy way to cook kadhi at home, Punjabi spicy kadhi.
Enter your email address:
Delivered by FeedBurner