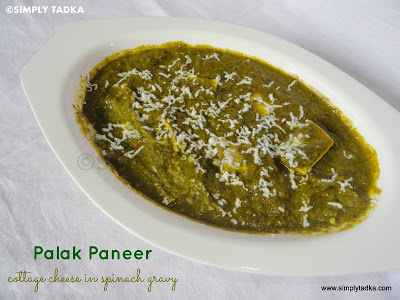 Last Updated on
Paalak
paneer is an Indian and Pakistani dish consisting
of spinach and cottage cheese in a thick sauce based
on pureed spinach. It is a popular vegetarian dish. Paalak paneer is
one type of saag, which can also be made with mustard leaves.
Paalak paneer is mainly served with naan, roti and
paranthas in dabbas but personally I love missi roti (gram flour with wheat
flour based Indian flatbread) with palak paneer. At the time of serving, if you
will add little lemon juice, its increase the taste 10times more.
Paalak/ spinach is easily available in every season
but in winter, you can get fresh, soft, green and raw paalak (kacchi palak) which
is very good for cooking spinach recipes. Under this recipe, we add aalan
which made by curd and gram flour… It helps in reducing bitterness and enhances
the color and taste both.
Spinach
has a high nutritional value and is extremely rich in antioxidants, especially
when fresh, steamed, or quickly boiled. It is a rich source of vitamin
A (and especially high in lutein), vitamin C, vitamin
E, vitamin K, magnesium, manganese, iron, vitamin B2, calcium,
potassium, vitamin B6, folic acid, copper, protein, phosphorus, zinc, niacin, selenium and omega-3
fatty acids. Recently, opioid peptides called rubiscolins have
also been found in spinach.
Preparation time: 15 minutes
Cooking time: 20-25 Minutes
Serving: 4 Persons
Ingredients
1/2 Bunch Spinach,
chopped
1 Cup Cottage
Cheese, cut into square
2 Tomatoes,
chopped
2 Onions, chopped
2 Green Chilies,
chopped
2 Tsp. Ginger,
chopped
1 Tbsp. Bengal Gram flour, sieve
2 Tbsp. Curd
1 Tsp. Coriander
Powder
1/2 Tsp. Red Chili
Powder
1/4 Tsp. Turmeric
Powder
Salt to taste
1/2 Tsp. Cumin
seeds
1 Tbsp. Clarifying
Butter
Ingredients
Saute onion paste in ghee
Saute tomatoes in same pan
Add spinach Puree
Add Aalan
Spinach gravy is ready
Palak paneer is ready to serve
Direction
Clean and wash
spinach. Boil spinach with water into pan for 5 minutes. Now drain water and
wash under running cool water to maintain green color. Blend boiled spinach
into blender for smooth puree consistency. Spinach puree is ready.
Blend tomatoes in
blender to make smooth puree. Combine chopped onions,
green chili and ginger and grind it. Onion chili paste is ready.
Combine curd, gram
flour, turmeric power, red chili powder and coriander powder with little water.
Blend it till to smooth consistency. Aalan/ marination is ready. Chop the paneer
into 1 inch thick square shape.
Heat the ghee in
the pan on medium flame. Add cumin seed, when starts splutter. Add onion-chili
paste and cook till to little golden. Add tomato puree and cook till to gravy
starts leaving sides. Add spinach puree and cook two minutes. Add aalan and mix
well. Add salt according to taste and again mix well. Cook for 10 minutes more
and add chopped paneer. Garnish with cream or grated paneer. Palak paneer is ready
to serve with missi roti.
Note: At the
time of serving add little lemon juice, its increase the taste of palak paneer.


Enter your email address:
Delivered by FeedBurner