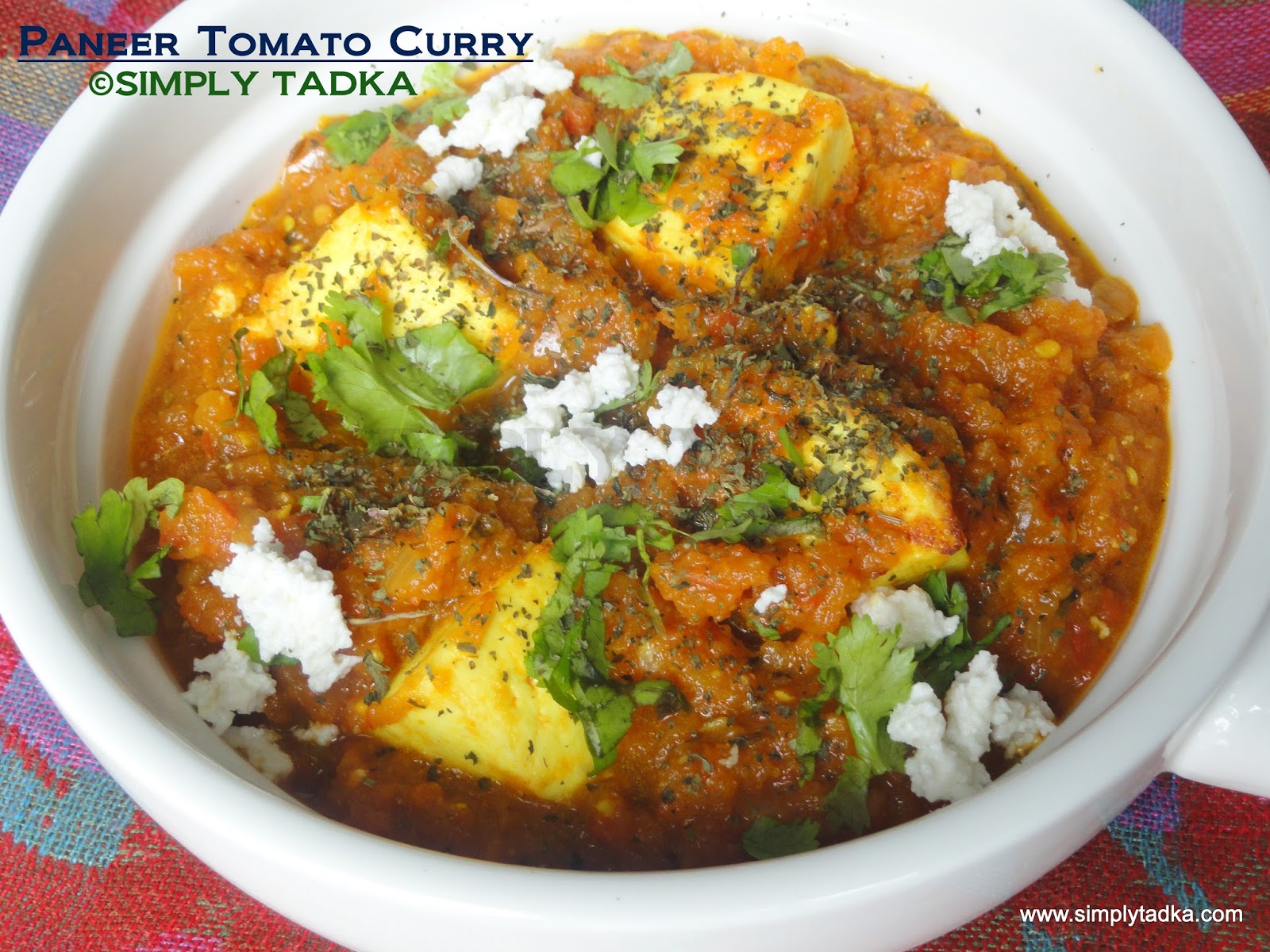 Last Updated on
Cottage Cheese or Paneer is essential ingredient in main course through which we can prepared lots of curries and gravy based recipes. This time I choose "Main Course" theme under BM#31 where we have to share some main course recipes which can be offer in lunch or dinner meals.
Paneer Tomato Curry is gravy based recipe in
which shallow fried paneer serve in tomato based gravy with little mint flavor.
You can serve this curry with Naan, paratha or poori.
Preparation
Time: 15 Minutes
Cooking
Time: 15-18 Minutes
Servings: 3
Persons
Category: Veg Curry
Ingredients:
200Gms Cottage Cheese/ Paneer
2 Medium Onions
3 Large Tomatoes
1 Tsp. Ginger
2 Green Chilies
2 Tsp. Tomato Ketchup
1/2 Tsp. Cumin Seeds
1 Tsp. Coriander powder
1/2 Tsp. Red Chili Powder
1/2 Tsp. Garam Masala
1/2 Tsp. Turmeric Powder
1 Tsp. Mint Powder
Salt to Taste
1 Tbsp. Ghee/ Oil
Coriander Leaves, Chopped for garnishing
Instructions:
Cut the paneer into big cube shape. Heat the
oil and shallow fry them. Keep aside.
Chop and grind the onion, green chili and
ginger together as paste.
Chop and grind the tomatoes separately as
puree.
Heat the oil in pan. Add cumin seeds, when
they start crackle.
Add onion paste and cook till to golden.
Add tomato puree and cook till to oil
separates.
Add spices, mint powder and tomato ketchup.
Mix well and cook for 5 minutes.
Add two cup of water and cook till to gravy
become thicken. Add fried paneer and mix well.
Garnish with chopped green coriander and
garam masala.
Serve hot Paneer Tomato Curry with Parathas.
Enter your email address:
Delivered by FeedBurner