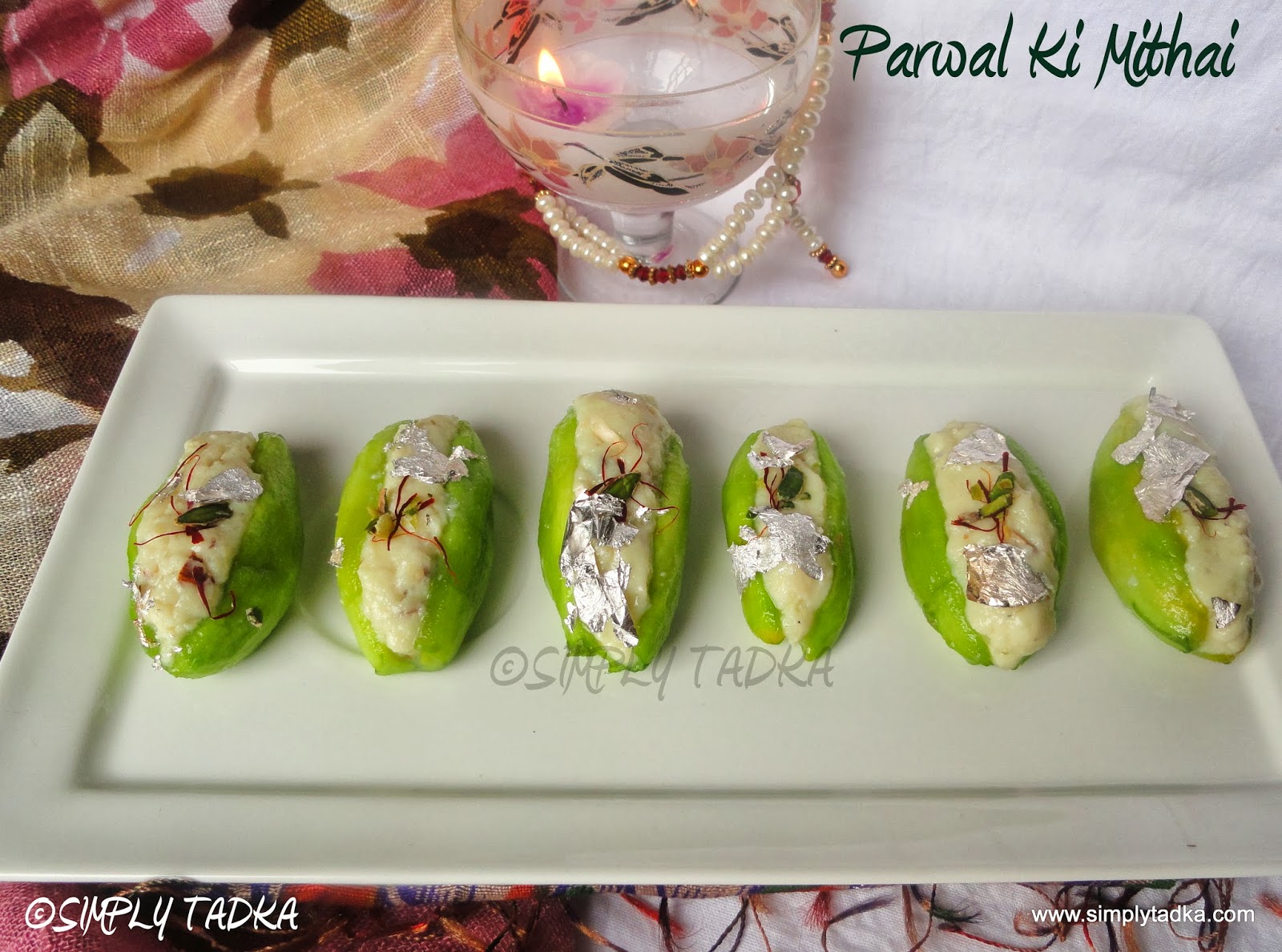 Last Updated on
One of the
traditional recipes in Banaras and Bihar is "Parwal Ki Mithai" is very unique
sweet which stuffed with mawa or khoya and nuts. This time I choose "Dessert
with Vegetables" theme under BM# 34 for first week, so here is my first recipe
"Parwal ki Mithai". For this recipe, you have to boiled and soak the parwal in
sugar syrup, filled with khoya and nuts stuffing. You can serve this recipe as
dessert or sweet on Diwali or any other festival season.
Parwal or
parval or potol is known as pointed gourd in English and Trichosanthes dioica
is scientific name. Generally parwal is famous in Bihar and North Indian region
and often called green potato. It contains major nutrients like copper,
chlorine, sulphur, magnesium and potassium. You can prepare parwal in sweet or
savory both form.
Preparation
Time: 30 Minutes
Cooking
Time: 20 Minutes
Servings:
10
Category:
Indian Sweets
Ingredients:
10 Parwal, peeled and seedless
1/4 Tsp. Soda Bi Carbonate
For
Sugar Syrup
1 Cup Sugar
1/2 Cup Water
1/2 Tbsp. Milk
For
Stuffing
1 Cup Mawa/ Khoya, grated
1/4 Cup Milk Powder
8 Almonds, finely chopped
8 Cashews, finely chopped,
10 Pistachio's, finely chopped
1/2 Tsp. Cardamom Powder
1/2 Cup Sugar
For
Garnishing
Pistachios, halves
Saffron
Silver Warq
Instructions:
Peel and slit the parwal in centre and
remove the seeds.
Boil the water in pan and add pinch of
baking soda.
Add parwal and boil it for 5-7 minutes.
Heat the sugar and water together in
separate pan till to one string syrup.
Add boiled and drained parwal in sugar
syrup.
Soak the parwal in syrup for 5-10
minutes. Keep aside to cool.
Heat the grated mawa in non-stick pan.
Add powdered sugar, cardamom and
chopped nuts in mawa. Cook for two minutes only.
Remove the mixture into bowl and add milk
powder. Mix well and keep aside to cool.
Stuff the parwal with mawa mixture and
garnish with chopped pistas and saffron.
Keep in freeze and serve chill.
Note:

You can garnish with silver varq too
which gives beautiful outlook.
Choose any combination of nuts which you
liked.
Tag: How to prepare parwal or
parval ki mithai, Diwali special mithai, parwal sweets, how to cook parwal ki
sweets at home, homemade sweets or mithai, easy sweet recipe for festival
seasons, Stuffed parwal ki recipe, Mawa stuffed parwal ki mithai.
Blogging Marathon page for the other Blogging Marathoners doing BM#34
Enter your email address:
Delivered by FeedBurner