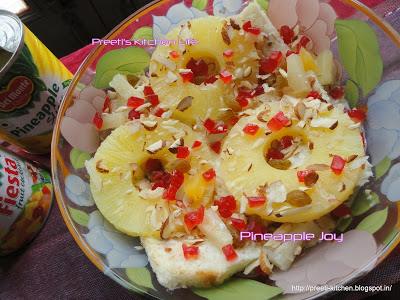 Last Updated on
Today I post very interesting recipe… which is totally new for me. I
made this dessert for my lovely friends and after taste, it everyone like it
also…. That's why I choose name Pineapple Joy because main ingredients is Pineapple
and after eat this, we enjoy a lot. Under this recipe, I used Del Monte
Pineapple slice and Del Monte Fiesta Fruit Cocktail for this dessert. You can use
fresh fruit also instead of tinned fruits.
Preparation Time: 20 Minutes
Cooking Time: 45 Minutes
Serving: 8 People
Ingredients:
8 Bread Slices
2 Tbsp. Butter
1 Cup Del Monte Fruit Cocktails
3-4 Del Monte Pineapple Slices
1 Tbsp. Tutti Frutti (Red Color)
2 Tbsp. Slivered Almonds
1 Tbsp. Raisins
600 Ml Milk
1 Tsp. Cardamom Powder
1 Tbsp. Rose water
3 Tbsp. Sugar
Directions:
Heat the milk in the thick bottom pan on medium flame till to
reduce half. Now mix 1 tsp. cornflour in 2tbsp. cold milk and stir into the hot
milk. Add
cardamom powder and stirring continuously till to milk become little thick like
kulfi mixture. Add sugar and mix well. Take the stove off and when milk comes
on room temperature, add rose water and place in freeze till to chill. Cut the bread corners and toss with
little butter on non-stick pan. Cut the bread into triangle shape.
How to arrange Pineapple Joy Dessert
Place the 10 pieces of bread in bottom of glass bowl and 3-4 tsp. of
syrup from the tinned fruit on the bread. Now spread half portion of milk on
the top of bread and spread 3/4 cup of fruit Cocktails on the top of bread and
milk. Repeat these steps again with remaining bread and milk portion. Spread remaining
Del Monte fruit cocktail and Del Monte Pineapple slices. Garnish with slivered
almonds, tutti frutti and raisins. Place this dessert into freezer for 20-30
minutes and then place in freeze instead of freezer…. Serve chilled and enjoy Pineapple
Joy.