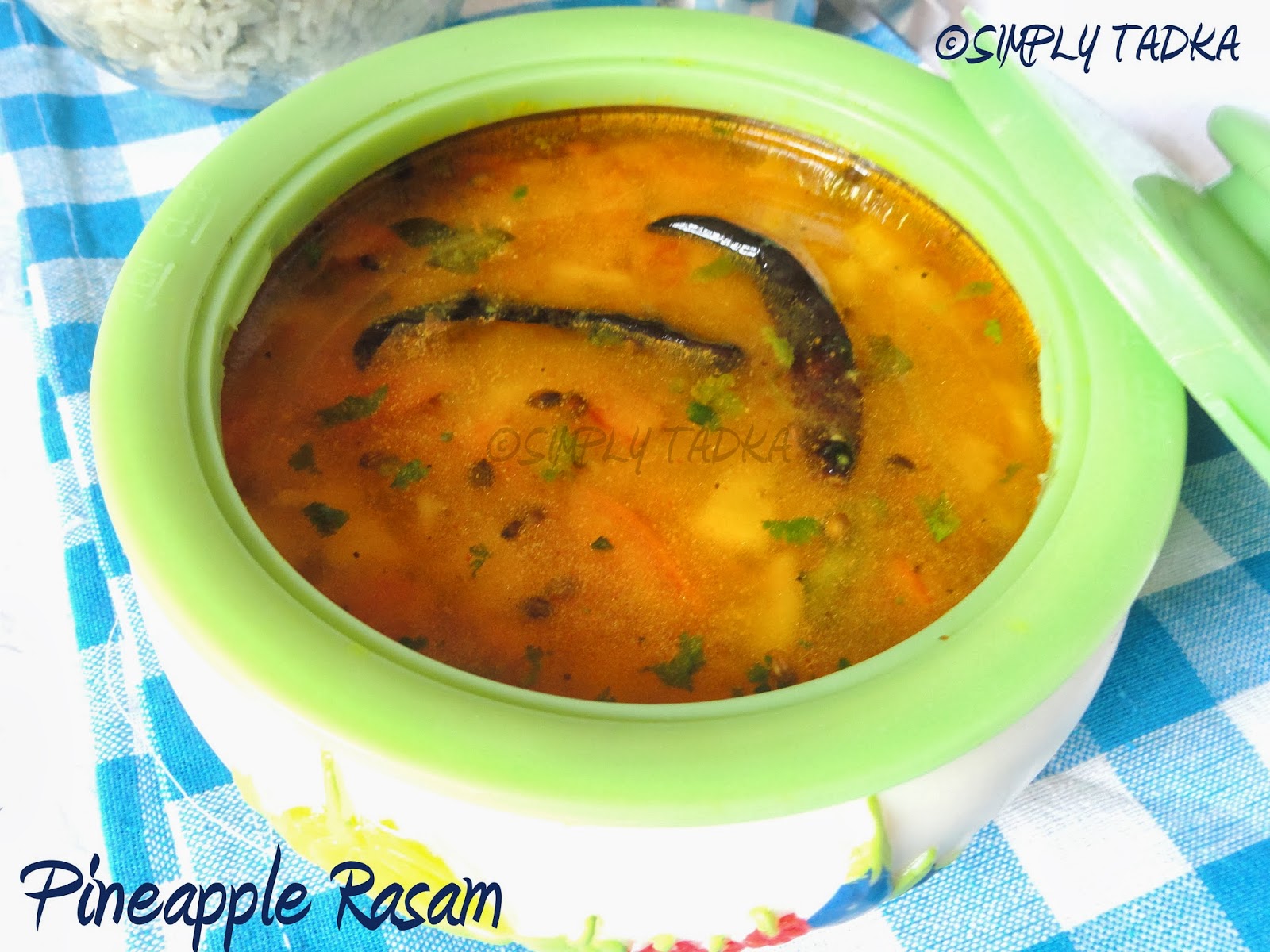 Last Updated on
Pineapple with rasam is really amazing
combination, I love to explore different kinds of flavors and taste in
different cuisines. I have available pineapple at home in big amount, so this
time I tried or use pineapple in rasam as pineapple flavour. It gives sweet and
tangy punch to regular rasam and makes healthier. You can serve rasam with
individual meal or with rice and papad as side dish. It's a perfect dish for
winter or monsoon season. For this recipe, you have to cook pineapple and tomatoes
along with cooked toor dal and
homemade rasam powder
.
There are load of vitamins and minerals
in pineapples like full of vitamin A, C, fibre, potassium, phosphorus and
calcium. Pineapple are rich in Vitamin C which fight against viruses and
infections, good for cold and cough attacks and help you recover quickly.
Pineapples are anti-oxidants also, so save you from many diseases like atherosclerosis,
heart diseases, arthritis, various cancers etc.
Preparation Time: 15 Minutes
Cooking Time: 20 Minutes
Servings: 4
Category: South Cuisine
Ingredients:
2 Rings
Pineapple, Chopped
Yellow Pigeon
Peas/ Toor Dal, cooked
2 Tomatoes,
Chopped
1/4 Tsp. Turmeric
Powder
Salt to Taste
To Tempering
7-8 Curry
Leaves
2 Red Chili,
dried
Pinch of
Asafoetida
1 Tsp. Mustard
Seeds
1/4 Tsp.
Fenugreek Seeds
1 Tbsp. Oil
For Garnishing
Coriander
Leaves, Chopped
Instructions:
Combine half
tomatoes and pineapple with 1/2 cup water, turmeric powder, rasam powder in
bowl and blend it smoothly.
Heat the oil in
saucepan on medium flame and add tempering ingredients.
When they
starts splutter, add chopped tomatoes and pineapple and sauté for few minutes.
Add cooked dal
and tomatoes- pineapple puree mixture in this saucepan and mix well.
Add salt and
boil it for few minutes more on low flame.
Garnish with
coriander leaves and serve hot with rice.
Notes: You can use
store brought rasam power or prepare homemade also.
Wash and soak
the dal or lentil in water for few minutes and boil in pressure cooker till to
2-3 whistles.
Tags: how to prepare rasam at home,
pineapple rasam recipe, annanasi rasam recipe, easy rasam recipes, step by step
rasam recipe, southindian recipes, soup recipes, easy healthy recipes, winter
special recipes, side dish recipes.
Enter your email address:
Delivered by FeedBurner