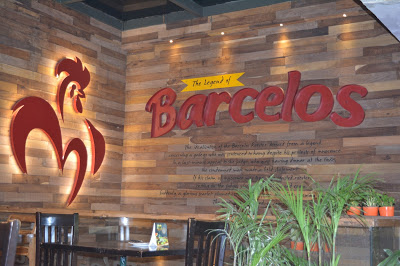 Last Updated on
Barcelos
is named after a quaint Portuguese town that is famous for an ancient legend of
the Barcelos rooster. Barcelos Flame Grilled Chicken has written a
singularly modern story of its own. As with any journey that starts out with
one small step, Barcelos opened its first store in Pretoria, South Africa in
1993. Using recipes mastered by the Portuguese hundreds of years ago, our flame
grilled flavors became so popular that we franchised the business in 1998.
Barcelos
is the high-street restaurant chain is the 'the home of the legendary
Portuguese flame-grilled peri-peri chicken'. The restaurant has bright and
cheerful; pale stucco walls, rustic wooden tables, and colorful ethnic art. It
was almost full: a group of young men engaged in animated conversation at one
table; a lugubrious middle-aged couple saying very little to another; a
smattering of families with older children; bed-sit singletons; four girls
looking at their phones.
Grilled Watermelon and Orange
Peri-peri – Swahili
for 'pepper-pepper' – is a hot chilli that comes originally from Mozambique,
where it was adopted by Portuguese settlers. One can have a quarter chicken, a
half chicken, chicken breast, chicken wings, and chicken livers, chicken
burger, chicken in pitta… you get the idea. They also serve vegetarian options
as well as fresh grilled Himalayan Trout.
From soup to fried and roasted preparation,
chicken is now popular food in India that is cooked in multi ways. Chicken is
one of the most valued and nutritious item for all ages people and delicious in
taste. Here are some healthy benefits of eating grilled chicken in routine
life.
# Relieves stress.
# Keeps your bones healthy and strong.
# Reduces Premenstrual syndrome.
# Boosts Immunity.
# Good for heart health.
Except Chicken, we tried Berry Cucumber Mocktail, Grilled Watermelon and orange Salad, Stuffed mushrooms and potatoes and more. All were good in taste and so fresh.
Tags: Reviews, Peri peri, chicken, barcelos, khan market, south africa cuisine, Portuguese, sangria, salad, milkshakes, restaurants review, delhirestaurants.
Enter your email address:
Delivered by FeedBurner