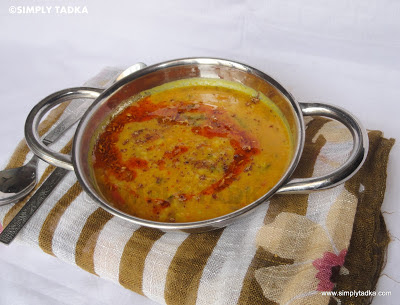 Last Updated on
This week I choose main course meal from Punjab
state as a weekly theme, under this I will post all three recipes related to
Punjabi Cuisines. First recipe which I post today is one of all favorite not
only in north region but whole over the world…. i.e. dhaba style Punjabi dal
fry.
Yellow dal is very simple and easy to cook
with simple tempering of onion and tomatoes and lots of spices. But when you
give extra tadka with red chili and cumin it's become more flavorful and aromatic.
Under this recipe, we have to soak yellow skinless moong in water for few
minutes and boil with water and salt. Now you can add onion and tomatoes
tempering and serve hot dal fry with paratha or phulkas. It's a very popular
recipe in every Indian dhaba or restaurants.
Soaking
Time: 15-20 Minutes
Preparation
Time: 15 Minutes
Cooking
Time: 10 Minutes
Servings:
4 Persons
Category: Veg Curry
Ingredients:
1 Cup Yellow Split Gram/ Dhuli Moong Dal
2 Tomatoes, Chopped
1 Onions, finely Chopped
2 Green Chilies, finely Chopped
1/2 Tsp. Cumin Seeds
1 Tbsp. Clarifying Butter/ Desi Ghee
Pinch of Asafoetida/ Hing
1 Tsp. Turmeric Powder
Salt to taste
1/4 Tsp. Red Chili Powder
1/2 Tsp. Garam Masala
1 ½ Tsp. Coriander Powder
For
Tempering
1 Tbsp. Clarifying Butter
1/2 Tsp. Red Chili Powder
1/2 Tsp. Cumin Seeds
Instructions:
Wash and soak the dal in the water for
few minutes approx 15-20 minutes. Boil this dal with water, salt and turmeric
power in pressure cooker till to 2-3 whistles.
Heat the ghee or oil in pan and
add hing and cumin powder when they start splutter. Add green chili and onions
and cook till to little golden. Add chopped tomatoes and cook till to soft.
When start leaving corner, add red chili powder, coriander powder, garam masala
and salt. Mix well. Add this tempering in dal and adjust the thickness with
extra boiling water.
For
Tempering:
Heat the ghee in tempering pan, when it's hot enough. Add red chili
powder and cumin seeds and cook till to splutter. Add this tempering on the top
of serving dish. Garnish with tempering and serve with phulka's and curd.
Enter your email address:
Delivered by FeedBurner