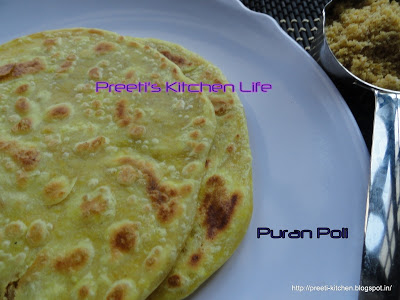 Last Updated on
Puran poli is Maharashtra and Gujarat cuisine which made by Maharashtra's
on Fest seasons. Puran Poli is a sweet flatten Indian bread which made by
filling of lentil and jaggery mixture. Under this recipe, Two word is used one
is puran and second is poli. As puran include lentil and jaggery mixture but
poli is flour dough with little turmeric color.
Puran Poli is Marathi dessert which served on auspicious day in
India special in the state of Maharashtra, Gujarat and Goa known by different
name in different location like holige, obbattu, poli, puranachi poli and god
poli etc.
Sometimes Toor dal is used in Gujarat and even Moong Dal also used
some place with some nuts for differ flavors.
I post this recipe special for Blogging Marathon hosted by Srivalli
Under theme of Ganesh Chaturthi. It's awesome in taste and a complete meal
nothing required to accomplish with Puran Poli.
Preparation Time: 50 Minutes
Cooking Time: 15 Minutes
Serving: 2 Puran Poli
Ingredients:
For Poli
1 Cup All Purpose Flour/ Maida
1/8 Tsp. Turmeric powder
2 Tsp. Vegetable oil
For Puran
1/3 Cup Bengal Gram/ Chana Dal
3 Tbsp. Grated Fresh Coconut
3 Tbsp. Grated Jaggery
1/2 Tsp. Cardamom Powder
Other Ingredients
Ghee for Frying
Directions:
How to prepare Puran:
Wash and soak the Bengal garm in water for 10
minutes and boil with 2 cup water till to 3 whistles in pressure cooker. Drain the excess water
and sauté all ingredients boiled Bengal gram, cardamom powder, jaggery and
coconut together for 10- 15 minutes on medium flame. Keep aside to cool and make
fine powdered in mixer without using single drop of water. Now puran is ready to fill.
How to prepare Poli:
Combine all ingredients together and make soft
dough with water and keep aside for 10 minutes and cover with wet clothe.
How to prepare Puran
Poli:
Divide the dough into two equal portions and roll it
little, add a big puran's portion just like ball in poli and cover it with dough and
make flat bread with rolling pin.
Now heat the tawa and place it. Grease little ghee
on both side and cook till to golden. Serve hot puran poli as sweet flatbread
stuffed with lentil mixture.
Pictorial
Submit this recipe with following event:
Kids delight Hosted By Srivalli
Virtual Birthday Party and Fun Fair Hosted By Pallavi
CWS- Chickpea event Hosted by Foodomania
Blogging Marathon page for the other Blogging Marathoners doing BM#20
WTML- Festival Time
Taste of tropics event hosted by Nivedhanam
and announced by
Chef Mireille