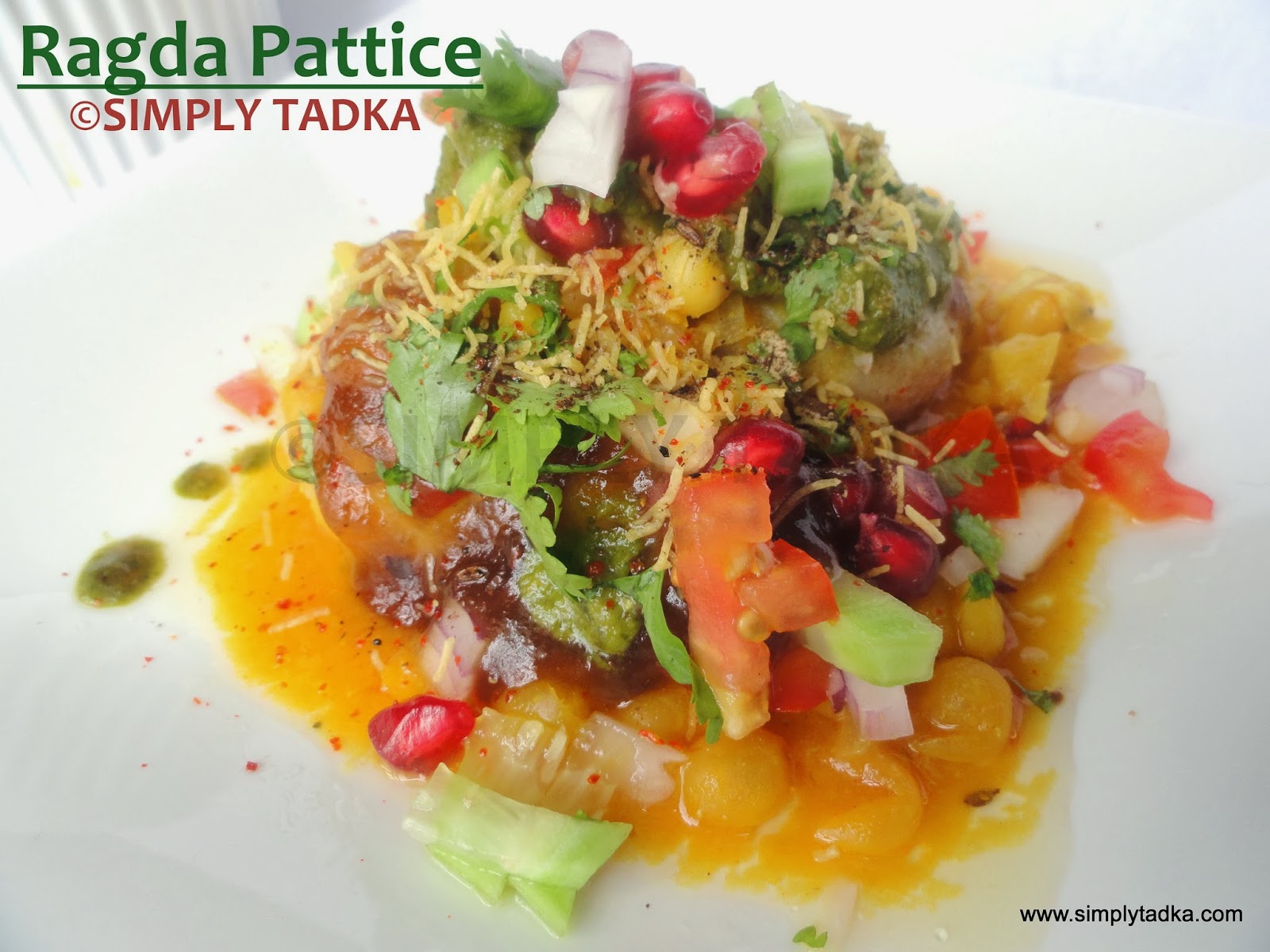 Last Updated on
Today I have to publish something with
alphabet R, so I choose Ragda pattice under street food category. Maharashtra's
popular street food "Ragda Pattice" which prepared with dried white pea's curry
and aloo tikki.
In Ragda Pattice, ragda is safed vatana or dried white peas
curry and pattice is mashed aloo tikki which combined together in one plate and
garnish with chutney, onion, tomatoes, coriander, spices and sev. It's also known
as aloo chole tikki chaat in our north side. It's a complete meal with lots of
ingredients in one plate.
You can change the garnishing ingredients of your
choice on the top of ragda pattice like onion, paneer, potatoes, pomegranate,
cucumber, corn, boondi, sev, chili and more. I love ragda pattice with chutney,
onion, cucumber, spices and sev.
Preparation
Time: 40 Minutes
Cooking
Time: 25 Minutes
Servings: 4
Category:
Street Food
Ingredients:
For Ragda
1 Cup Dried White Peas/ Safed Vatana, boiled
1 Onion, chopped
2 Tomatoes puree
1 Tsp. Ginger- Chili Paste
1 Tbsp. Tamarind Paste
Salt to taste
1/2 Tsp. Turmeric Powder
1/2 Tsp. Red Chili Powder
1 Tsp. Coriander Powder
1/4 Tsp. Garam Masala
Green Coriander, chopped for garnishing
For
Tempering
4-5 Curry leaves
1/2 Tsp. Cumin Seeds
Pinch of Asafoetida/ Hing
1 Tbsp. Oil
For Pattice
4 Potatoes, boiled and mashed
2 Tbsp. Cornflour
Salt
Oil for shallow fry
For
Garnishing
Green Coriander Chutney
Tamarind Chutney
Onions, chopped
Cucumber, peel and chopped
Tomatoes, chopped
Pomegranates
Green Chili, chopped
Green Coriander, chopped
Sev
Red Chili Powder
Salt
Roasted Cumin Powder
Chaat Masala
Instructions:
For Ragda
Wash and soak the dried peas in water for 3-4
hours.
Boil the peas with water in pressure cooker
till to maximum two whistles.
Heat the oil in pan and add tempering
ingredients.
When they starts splutter, add onion and sauté
till to translucent.
Add ginger chili paste and tomatoes puree. Cook
till to thick consistency.
Add spices as per taste and mix well.
Add boiled peas with water and cook for 5-10
minutes.
Garnish with chopped coriander and serve with
pattices.
For Pattice
Boil and mash the potatoes in separate bowl.
Add the cornflour and salt in mashed potatoes
and mix well.
Divide the mixture into equal portions and
roll out in flatten form as tikki.
Heat the non-stick pan with little oil and
shallow fry them till to little golden from both side.
Pattices are ready to serve with ragda.
For
Presentation
Place the two three pattice in plate and pour
ragda over the pattices.
Garnish with chopped tomatoes, onion,
cucumber, pomegranate and chili.
Add green and sweet chutney. Sprinkle spices
and sev on the top of ragda pattice.
Garnish with green coriander and serve this sweet
spicy and tangy platter.
Notes:
You can skip or interchange the garnishing
ingredients.
You can grind tomatoes, ginger and chili together
in blender as puree.
Even you can add garlic sauce or curd to for
more taste.
Enter your email address:
Delivered by FeedBurner