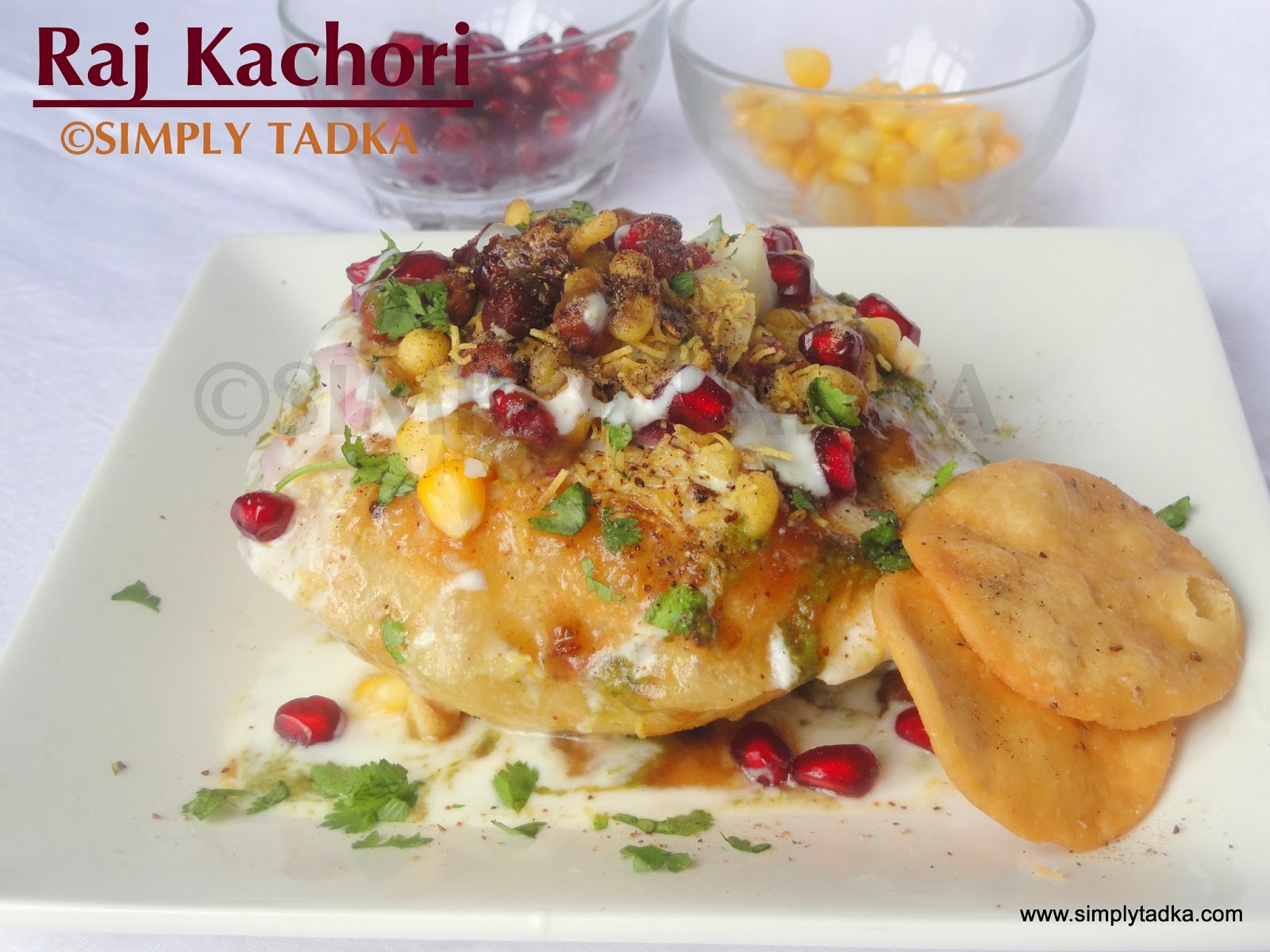 Last Updated on
Rajasthani Raj kachori is perfect street food
treat that makes me hungry any time. This kachori is like a basket which filled
with potatoes, sprouts, bhallas, papadi and sauces and garnish with pomegranate,
boondi and corn. This is our October month challenge which shared by Srivalli
and suggest by Vaishali. Raj kachori is delicious chaat which available in
whole India now.
Preparation Time:
30 Minutes
Cooking Time:
40 Minutes
Servings: 6
Category:
Street Food
Ingredients:
For Kachori
1 Cup All Purpose Flour/ Maida
1/4 Cup Semolina
Pinch of Salt
Oil for deep frying
For Filling
Green Gram Sprouts, Boiled
Brown Chickpeas, Boiled
Potatoes, Boiled
Yogurt, chilled
For
Garnishing
Corn, Boiled
Pomegranates
Onion, Chopped
Green Coriander, chopped
Sev
Boondi
For Sauces
Green coriander Chutney
Tamarind Chutney
For Spices
Salt to taste
Black Pepper to taste
Red Chili Powder to taste
Chaat Masala to taste
Roasted Cumin Powder to taste
Homemade papdi
Dahi Bhalle/ Dahi Vada
Instructions:
For Kachori
Combine maida, semolina and salt
together in bowl and knead into semi soft dough.
Cover and keep aside for 30 minutes to rest.
Divide the dough into 10-12 equal parts and roll
it into round disc form.
Deep fry them until to golden and crisp on
low flame. Keep aside to cool.
For Presentation

Gently tap the upper layer of kachori and
fill the kachori with filling ingredients i.e. bhallas, potatoes, sprouts,
chickpeas, papdi, corn, onion and yogurt and sauces.
Garnish with corn, pomegranate, onion,
sev, boondi, coriander and sauces on the top of kachori.
Sprinkle salt, red chili powder, chaat masala,
black pepper and roasted cumin powder.
Serve tempting raj kachori.
Notes:
Enter your email address:
Delivered by FeedBurner