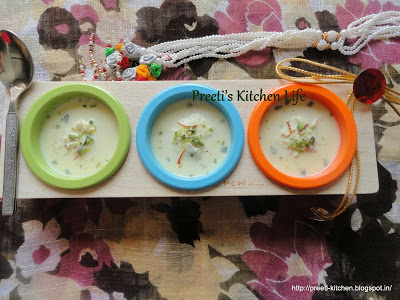 Last Updated on
Today I prepared Rasmalai, very famous,
rich and yumm in taste, sweet in India, especially Bengal region. Under
this recipe, we prepared malai with homemade chenna or paneer and ras with
thick consistency milk and serve together with lots of nuts and cardamom powder
in one bowl. It's color light yellow look so pretty and very attractive.
Ras Malai or Rosh malai is a
sweet dessert originating in Eastern India and popular throughout the Indian
subcontinent is served after a meal. It is popular throughout South Asia. The name Ras Malai comes from
two parts in Hindi: Ras, which means Juice/Juicy, and Malai, which means cream. This time in Blogging marathon #23, for Traditional Dish, I choose ras
malai, hope everyone like it.
Preparation time: 15 Minutes
Cooking time: Less than
45 Minutes + Chilling time
Servings: 6-7 Pieces
Ingredients:
For Ball's
1/2 Cup Sugar
2 Cup Water
For Ras
500ml Milk
200gm Condense milk
1/3 Cup Sugar (as per your taste)
Saffron (soak in warm milk)
1/2 Cup Nuts (cashews and pistachios)
1 Tsp. Cardamom powder
Pictorials:
Ras
Paneer Ball
Chilled Ras Malai
Direction:
For Ras:
Soak the saffron into 2 tsp. warm milk. Now heat the milk into deep
and thick bottom pan. Add condense milk and stir till to dissolve well. Add saffron
into milk. Cook till to thick consistency.
Now add sugar as per your taste buds and cardamom powder and
chopped nuts. Cook for 5-10 minutes. Remove from the fire and keep in fridge
till to use as chilled.
For Paneer Balls:
Divide the dough into small and equal portion. Now add water and sugar in pressure cooker.
When sugar is dissolve in water and start boiling, add paneer ball
one by one. Remove the whistle from the
cooker's lid.
Cover with lid and cook till to 10-12 minutes on low flame. Now remove
the fire and keep the pressure cooker under running water for 2 minutes.
Now keep the paneer ball in separate bowl with water. Leave it for
20-30 minutes.
How to assemble:
Now add paneer ball into chilled ras and garnish with saffron and chopped
nuts. Enjoy chilled and yummy dessert.
Submit this recipe
with following events:
Blogging Marathon page for the other Blogging Marathoners doing BM#23
Cookoff Christmas Event hosted By Foodomania and 60days to Christmas Event Hosted by Priya
WTML event Hosted by Nithu and 1st Anniversary event hosted by Siris Food.com