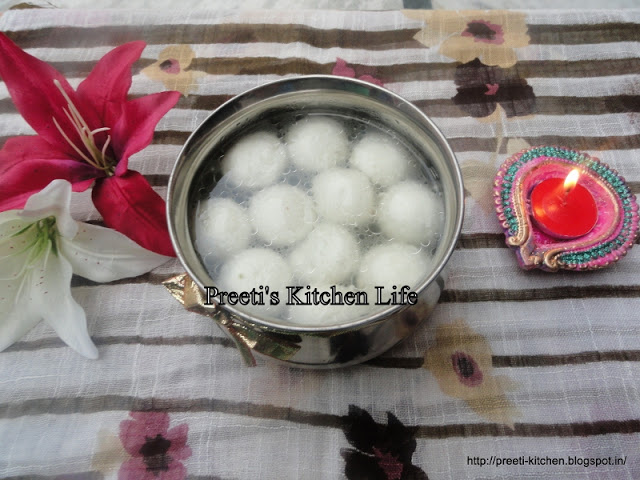 Last Updated on
On the very special
occasion of Diwali, I prepare Bengali sweet- Rasogulla or Rasgulla for my
family and viewers. Under this recipe, we have to prepare chenna at home and
then we made soft ball from this dough and put in hot sugar syrup.
Bengali sweet
rasgulla is very sweet but not in excess. It's yummy and soft spongy. It can be serve as chilled.
Preparation time: 30
Minutes
Cooking time: 15
Minutes + Chilling Time
Servings: 12 Small
Pieces
Ingredients:
500 ml Full Cream Milk
Half Lemon Juice
250 ml water
12 Spoons sugar
1 Tsp. Elachi Powder
Few drops of Rose Water
Directions:
Boil the milk and add half lemon juice.
Wrap the curds in a muslin cloth, rinse under cold water, and squeeze
well.
Once the paneer is drained completely, knead the paneer for 5-10
minutes just like soft dough.
Now divide the paneer into equal 11-12 portions and make lemon shape
ball with dough.
Now heat the water in pan, add sugar and cardamom powder in it. When sugar
dissolve completely, add paneer balls slowly one by one.
Cook for 10 minutes and cover it with lid. Ball turns into double in
size. Remove pan from the flame. When ball and syrup come on room temperature,
add rose water.
Place this bowl in to freeze till to chill.
Serve chilled Bengali Rasogulla in front of guest in Diwali week.
Submit this recipe
with the following events: