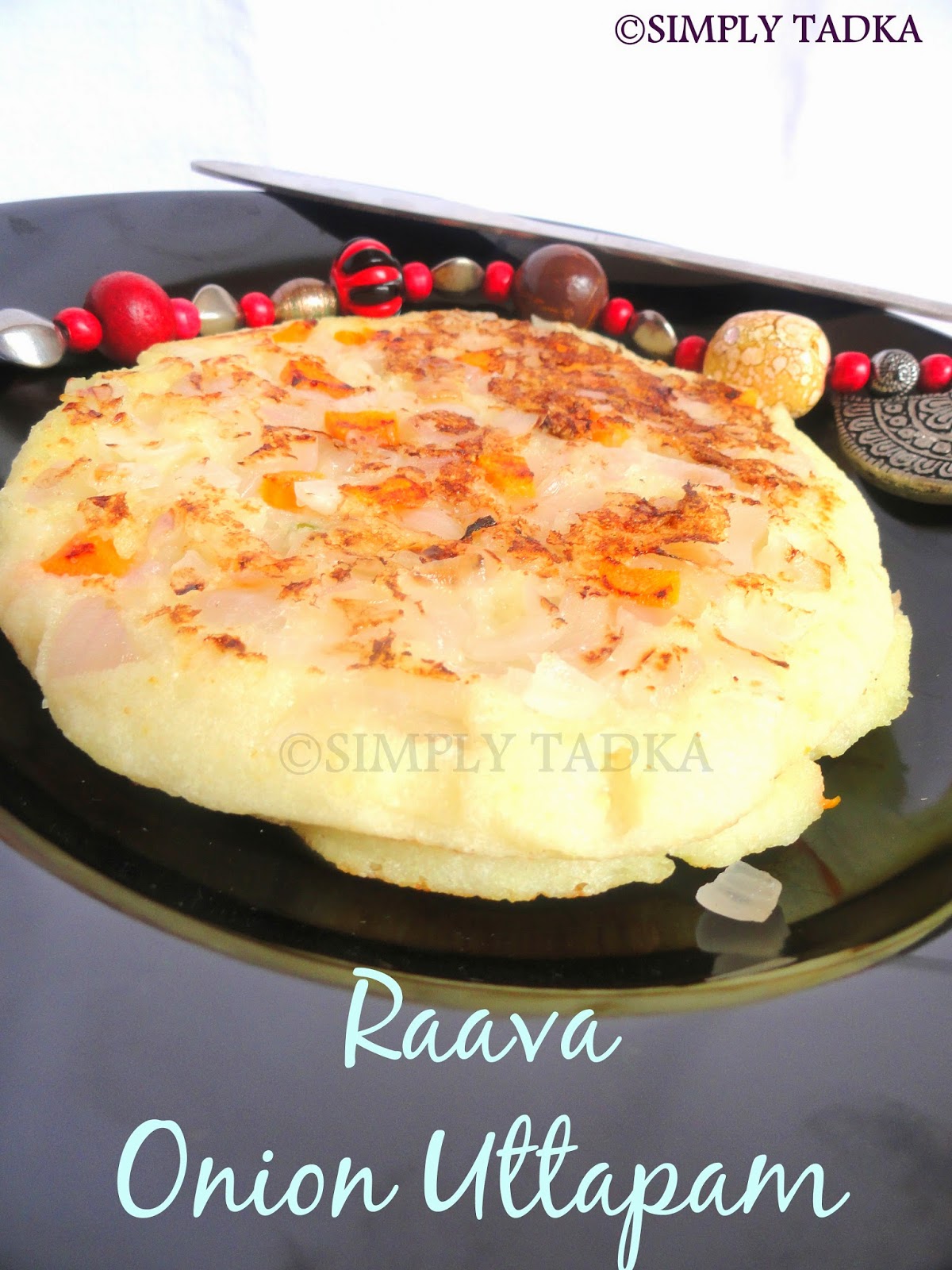 Last Updated on
Rava Uttapam is one of mine favorite breakfast
recipe. Whenever I feel hungry, I made this instant rava uttapam with some
veggies or onions. For instant version, you have to just combine curd and rava together
with salt and eno to prepare crisp and small uttapam within 5 minutes. You have
to prepare the consistency of batter just like idli batter. I added small
quantity of carrot also just for giving nice and colourful texture, it's
completely optional.
Preparation
Time: 12 Minutes
Cooking
Time: 10 Minutes
Servings: 2
Category:
South Indian Cuisine
Ingredients:
1/2 Cup Rava/ Semolina
1/2 Cup Yogurt
Salt to taste
1/2 Tsp. Eno (Fruit Salt)
2 Green Chilies, finely chopped
2 Medium Onions, finely chopped
2 Tbsp. Carrot, finely chopped (optional)
Butter for shallow fry
Instructions:


Peel and finely chop the onions and carrots. Combine
rava, yogurt, green chili and salt together in large bowl. Add eno at the time
of making uttapam.
Pour the 1 ladle full of batter in hot
greased non-stick pan.
Drizzle the butter and cook on medium flame.
Flip the uttapam and cook again for 2 minutes
until to both sides get golden brown and crisp.
Serve hot onion uttapam with coconut chuntey.
Tags:
how to prepare uttapam, onion uttapam, onion utthapam recipe, how to made onion
uttapam at home, rava uttapam recipe,
breakfast recipe, instant recipe, instant rava uttapam, rava or sooji uttapam,
onion utthapam, south style uttapam, south indian breakfast recipe, small onion
uttapam, indian vegetarian recipe.
Enter your email address:
Delivered by FeedBurner