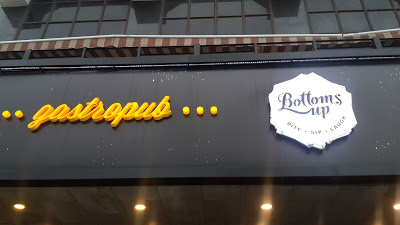 Last Updated on
Every foodie loves good drink, good food
and good entertainment, to get these entire things at one place… Bottoms Up is perfect gastropub located
on club road, Punjabi Bagh.
Everyone is welcomed and will find their
peace either in the fine dining area on the ground floor or the bar-lounge area
on the second floor. Love the seating arrangement in the balcony.
The ambiance of restro is groovy and
peppy, fit for youngster's mood and taste. I was attended by Mr. Harsher and
shared whole delicacies with him. Even bottom ups offering nutritious and
healthy food includes air fryer dishes, baked & tandoori dishes for health
conscious people.
The interior look like raw warehouse have
old fashioned barrels, hand painted walls and Edison light bulbs. Not too
bright and not dark just right balance. … Just like go there, seat and relax,
chill out with nice and peppy music… chit chaat with friends and enjoy
fantastic food.
They are offering quite unique and
interesting menu options for both vegetarian and non-vegetarian. I tried few
mocktails like Orange and Date Mojito and Kiwi Lemonade.
Wild
Herbed Guava is fresh
and little spicy mocktail which taste like a spicy guava chaat and best option
for non-alcoholic drinkers. You can get many more flavors if you are also non-alcoholic
person like me.
The Chakhna
Platter is a great innovation which served in tea glasses, good accompanied
with your cocktails and mocktails. These are common chat like channa jor garam,
spicy corn masala and toasted peanuts masala but love the whole idea like how
to present…specially the flavors which make them different from the regular
one.
The Tandoori
Pineapple Kimchi with Toasted Peanuts Salad in Kadak Roomali is just like
dream dish. I tried roomali roti with gravies or in wraps form. But this
platter is completely unique and impressive too. Love the texture of crisp
roomali in basket style and filled with tandoori pineapple, sprouts and toasted
peanuts and more.
Two must recommend dish are Bunny Chow (fill your bunny with choice
of curry) and Thin Crust Turkish Pizza.
I love the concept of thin crust and topped with smoked tomatoes, mushrooms and
hung yogurt instead of cheese, completely healthier option for your
tastebuds…..creamy and crunchy.
Now time to reveal something in sweet,
the experience was good with Bitter chocolate Rum and Raisin
Mousse. It was look pretty in plate
as well in taste. The sauce on the plate was giving it an edge.
Lite bite foods, one of the fastest
growing food and beverages Retail Company in the country today launched Bottoms
Up Gastropub in Punjabi Bagh, Delhi.
Announcing
the launch of Bottoms Up, Rohit Aggarwal, Director, Lite Bite Foods said,
"Whether you are looking for a cool place to hang out or dance the night away
or best just to relax and enjoy an alluring spread of fusion food, Bottoms Up
is the place. Delhi is indeed the place for hardcore urbanites who love to have
fun when the sun goes down. Bottoms Up will be the ideal combination of good
music and scrumptious food."
Personally suggest to my readers and
friends, just visit once and you love it. No need to convince because food,
entertainment and service speak for itself.
It's a best
place for your kitty parties, birthday parties, corporate meeting &
parties. Overall you get good food, relaxed and easy going ambience with warm
hospitality for your guests in affordable budget.
Location: 50, NWA Club Road, Punjabi Bagh
Opening Hours: 12PM- 1AM
Contact: 8527690942
Tags: bottomsup, Restaurant review, simplytadka, gastropub,
bottoms up, Punjabi bagh, delhi restaurants, pubs, bar
Enter your email address:
Delivered by FeedBurner