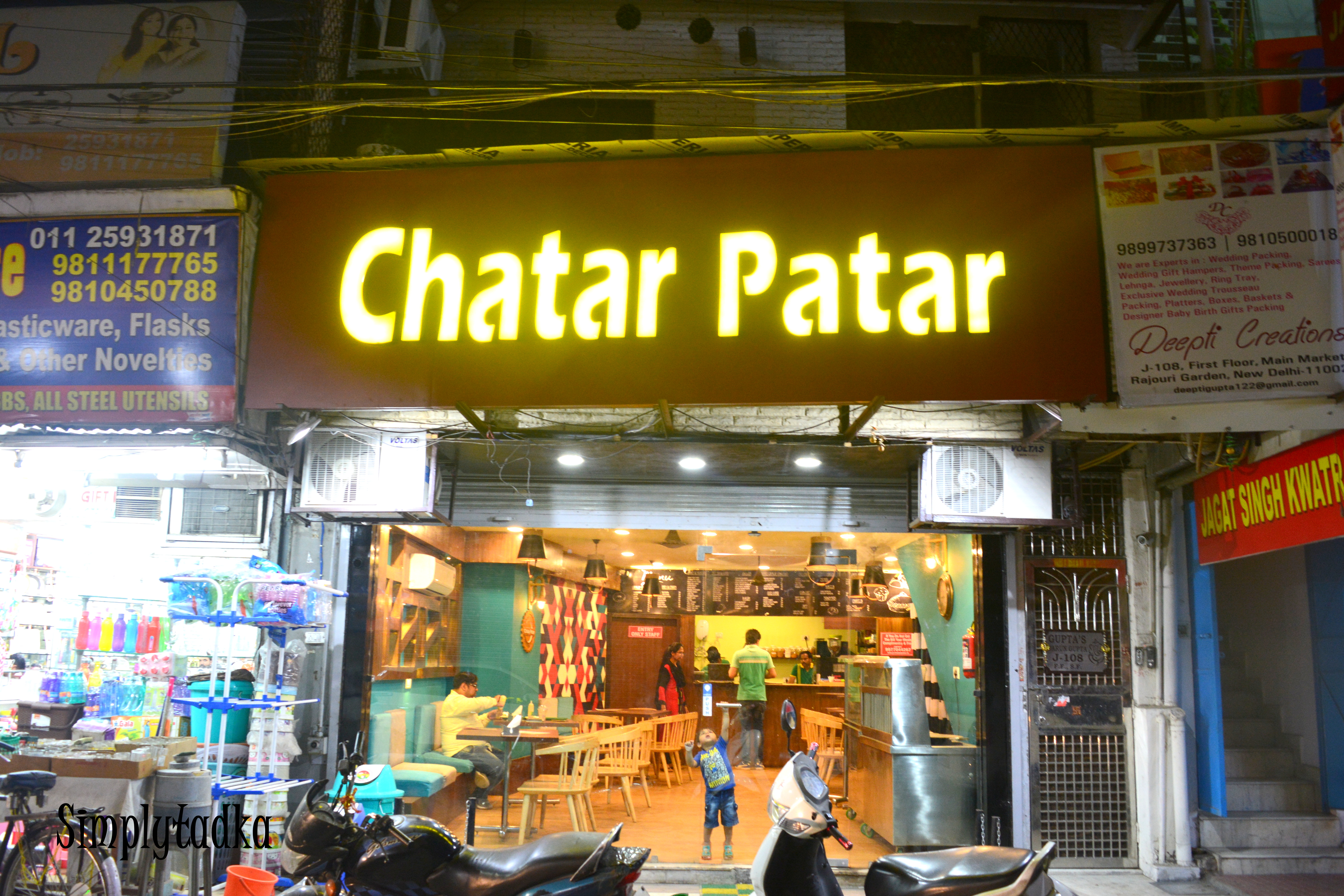 Recently I had an opportunity to visit newly opened food joint "Chatar Patar" with my family.  It was located in middle of Rajouri Garden market. Chatar Patar is perfect place for chaat lovers. Here you can get many varieties in chaat items.
The place was quite interesting in appearance… beautiful interior, comfortable furniture and attractive colors on walls. The place was quite spacious. One can host party for both small and big gathering.
The Staff was courteous and humble. After tasting lip-smacking chaat items you will definitely enjoy food.
Now time to share what we had there:
I started my order with special items which were available in menu card i.e.
Tandori Chaatizza was very unique concept. They served mashed potatoes, onion, coriander stuffing topped with cheese, pomegranate, sev and ketchup on Gujarati Khakra. It was really interesting and tempting dish. We really loved it.
Mexican Zappi they used tortillas as base and stuffed with Mexican bean stuffing and garnished with cheese. It was really creamy, soft and very light snack to eat.
Paan Shot: I have tried so many flavors in water with pani puri but pan flavor was very unique concept for me. Big thumps up for this innovative flavor in golgappas.
In shakes we tried Oreo Shake as it's my kiddo favorite and secondly we tried Pan-E-Bahar, completely mind blowing taste… full on paan flavor in shake. You can taste and enjoy every sip.
Now time to taste Cheese Garlic Sandwich, cheese garlic sandwich was so light to have. Completely balanced sandwich with flavor of cheese and garlic, so crunchy and fresh.  This sandwich goes perfectly with shakes.
Disco Bhel was very innovative name which attract me lot because of name. Disco bhel was served with mashed potato stuffing, chutney and curd on the top of lays. They used chips as canopy. Another interesting idea to serve bhel on the top of chips or wafers.
As name suggest Chatar Patar. I love tag line Chatar Patar.. khole muh ka shutter. It's a heaven for chaat lovers you can enjoy each and every dish here. They served panipuri with 15 different flavors of water. It includes strawberry, khatta meetha, lahsun, pudina, kokum, orange, lemon, hing, mango and many more. But I tried khatta meetha, kokum, pudina, strawberry, lahsun. I love the presentation and taste both…
Overall it was an amazing experience with chatar patar.  This place is to be in your checklist for sure and especially if you are food lover like me. It's completely new twist to traditional chaat delicacies. Highly recommended to all.
Address: J-108 Main Market, J block, Rajouri Garden Delhi 
Contact Number: 01140342712