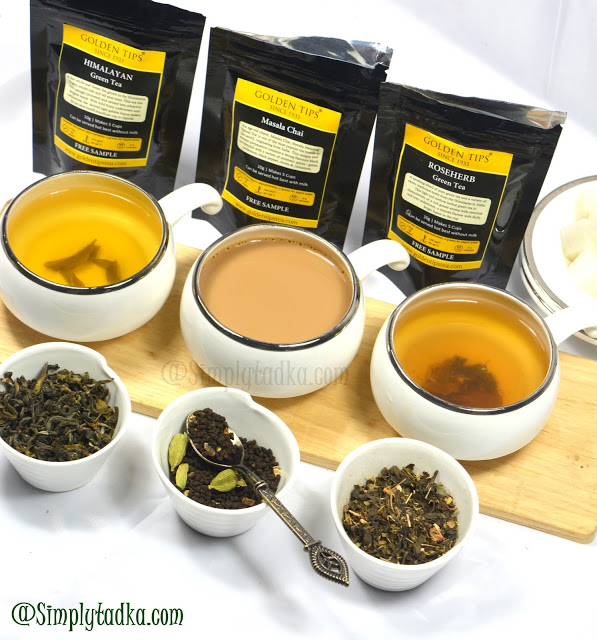 Last Updated on
Golden Tips tea is a renowned brand in tea world which originated from Darjeeling which brings highly healthy and fresh teas for connoisseurs and tea lovers.
Every person who loves tea, can easily understand the taste of real flavors. Golden tips teas gives healthy, green and always flavorful teas. I love this tea not because I'm sharing review but it gives extra special touch just like morning meditation… so peaceful and relaxing.
Few days before i got a small packet which includes set of five teas from Golden Tips Tea in exchange of reviewing and sharing my honest opinion on my blog. Truly when i taste them.. my experience was exotic and stress free. Here are some samples which i tasted.

Himalayan Black Tea : A premium selection from the scenic estates in the foothills of the Himalayas. This full leaf tea is characteristic of a sparkling golden color, flowery aroma and a smooth flavor with mild fruit taste.

Himalayan Green Tea: A fine whole leaf green tea grown in the Himalayan heights amidst lush and tall pine trees. This tea has been caringly processed and twisted into attractive designer leaves. With mild fruity undertones and mellowness, the derived light golden liquor makes for an ideal health beneficial cup to cherish.
Masala Chai
: Masala Chai means Spiced tea is one of most popular tea in the world, originating from India. This unique, classic and old age tea blended with aromatic spices i.e. green cardamom, black pepper, cloves and cinnamon.

Cinnamon Cardamom Green Tea: we always tried cinnamon and cardamom with black tea like masala chai but fusion with green tea is very unique. This perfect combination of fragrant spices makes for a balanced and mildly aromatic taste for health conscious tea lovers.

Roseherb Green Tea: A soothing blend of pure green tea and a variety of exotic medicinal herbs from the Himalayas in India. This light and mellow herbal green tea is characteristic of a rich grassy aroma with sweetish and rosy undertones, a smooth flavor with fairly bright liquor in the cup.

Cinnamon and Cardamom Green tea is the best Tea. It is fresh, healthy, exotic and very flavorful. Its a perfect beverage for tea lovers who miss masala chai but can't enjoy due to some health issues. You can enjoy this exotic experience in any way either hot or chilled.

Established in 1933 in India, where grow the finest teas of the world, with a mission to epitomise the art of drinking gourmet teas, golden tips is among the oldest and most reputed brands, marketing 100 percent pure single origin unblended teas from India. On a mission to create India's first global tea brand, golden tips tea endeavors to reintroduce consumers to the world of the real Indian tea.

Over the years, established under the leadership of Madhav Sarda, a 3rd generation tea entrepreneur, the brand has diversified from retail to wholesale & ultimately to exporting its offerings in value added & branded packs.

Every flavor were delicious and so flavorful. My experience was awesome. Highly recommended and completely vegetarian product.
Enter your email address:
Delivered by FeedBurner