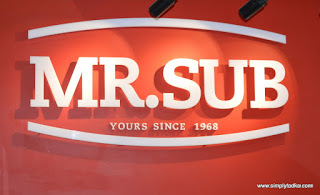 Last Updated on
Mr.
Sub comes to Indian with the launch of first restaurant in the National Capital
"Delhi"


Iconic Canadian 'submarine sandwich' brand,
"MR.SUB" marks its India debut with an exclusive store at the SDA market in
Delhi. Founded in 1968, as an answer to the omnipresent American QSR brands,
"MR.SUB" is one of the premium brands with around 305 "MR.SUB" outlets in
Canada. It is especially known for its freshly baked bread, healthy ingredients
and customizing each order to the customers' satisfaction. Beverly is the
Master Franchisee for "MR.SUB" pan India. We believe in building relationships.
The brand personality is welcoming, Simple, Consistent, Dependable and Happy.
Mr. Sub's slogans were "Lub my Sub", then "Fresh thinking
is what we are", "Taste a Canadian Tradition", " It's not a
sandwich it's a Sub", followed by "There's always something good
going down at Mr. Sub", to the very relaxed marketing of "Oh Canada,
Oh Mr. Sub".
Mr. Sub is
better option than subway, where subs are more interesting and tasty than
subway. If you like sub style sandwiches and wraps then do visit this place.
Great varieties of breads, toppings and sauces available. Happy
to see freshness, quality based ingredients and the transparency at counter
about what Mr. Sub is serving to customers. Customers easily choose the
available options in breads, toppings and sauces at time of ordering
sandwiches.
The place is
hygiene and ambience is nice with good seating arrangement. Love the dark color
interior, red and black wooden….quite impressive.
Two types of wraps available at Mr. Sub, flour tortilla
wraps and spinach tortillas wraps. I tried spinach tortilla with Mexican
patty…. something new for Indian foodies, love the green color, thin wrap with
international and local fillings. Mexican patty sub with chipotle bread and
Spicy Paneer roll sub, both are amazing in taste….All veggies are crunchy and
fresh.
At
Mr. Sub, lots of varieties available in sauces, breads and topping which are
the best in flavors. Here are the options in sauce: Mr. Sub secret sauce, BBQ
sauce, mint mayo, yahoo sauce, chipotle mayo, mayo (eggless), kasundi mustard,
herb vinaigrette dressing, pizza sauce, cheese blend sauce and sweet onion
sauce. Secret sauce and cheese blend sauce both are favorite out of all… Love
the flavor and texture of these sauces. Sauces are the main ingredients of
sandwiches and wraps which enhance the taste of meal.
Topping
options are Tomato, onion, green capsicum, cucumber, iceberg lettuce, green
olive, jalapeno, pepper, pickled paprika.
Bread options are Italian cheese and jalapeno,
chipotle, whole wheat, honey wheat and 5 grain. The best part is that Mr.
Sub bakes all their breads three times a day. I like chipotle and
cheese-jalapeno bread….Freshly baked breads available at store which makes
sandwiches healthier.
Beverages
options are peach ice tea, Americano, cappuccino, cold coffee and more.
Taste, variety and hot fillings are some of
our other USP's. The internationally renowned submarine sandwich chain has
worked closely with local chefs to ensure a good balance of vegetarian and
non-vegetarian options in its menu with specific tandoori flavors like Tandoori
Chicken Tikka and Tandoori Paneer Tikka and hot & spicy flavors like spicy
sambal veggie balls and curried soya. These have been developed keeping in mind
the preferences of India Customer.

Recommended international favorites are the pizza, Italian herb chicken and
assorted Subs. Both international & local fillings can be enjoyed as a
salad for the calorie conscious or as wrap choosing either plain or spinach
tortilla. Mr. Sub bakes fresh bread and cookies in the store.
Mr.
Sub provide welcoming ambience for customers, where they can come and spend
good time with perfect healthy Subs over meetings or chit chat session with
friends and family.
Mr. Sub (Shop no C-16 (Ground floor) SDA market, commercial
complex, New delhi-110016)
Ph:
011-68888588
Enter your email address:
Delivered by FeedBurner