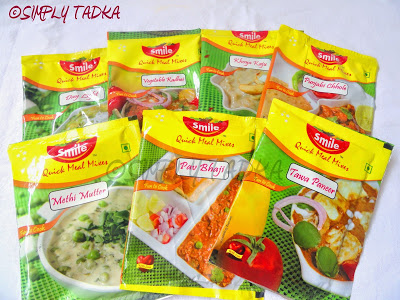 Last Updated on
Few days before I got a parcel from Mother's
Magic Food, they sent me 7 different types of Smile Quick Meal Mix packets
included Tawa Paneer, Pav Bhaji, Methi Mutter, Khoya Kaju, Punjabi Chole, Day
Light, Veg Kadhai. Really when I tried this mixture in my kitchen, gives me
smile because of instant cooking without any efforts and time consuming.
Smile Quick Meal Mixes are innovative ready
to cook spice mixes from Mother's Magic Foods. Great quality, quickness and
ease to use ensure smile customers' a delightful experience. It's made from all
natural ingredients with no added preservative, artificial food colors or MSG.
You can prepare or cook the Indian recipes with in minutes without efforts for
your loved ones.
This time I tried Methi Mutter, white thick
and creamy texture based gravy which includes boiled peas and fenugreek leaves.
Other ingredients which already includes in mixture are cashew nuts, rice flakes,
milk, salt, sugar, cheese, khus khus, corn starch, fenugreek leaves, onion,
garlic powder, ginger, chilli, pepper, vegetable oil, condiments & spices. You
can serve this recipe with Indian flat bread or rice. For more variation tried
this mixture with fresh corn and paneer or paneer balls.
Preparation
Time: 5 Minutes
Cooking Time:
5 Minutes
Servings: 4
Category:
Main Course
Ingredients:
1 Packet of Smile Mix Methi Mutter
200gm Boiled Green Peas
300ml Milk
1 Tbsp. Butter
Chopped Coriander leaves, for garnishing
Instructions:
Mix the entire pack of smile mix with 2 cups
of milk to make thick mixture.
Heat butter in the pan and add the smile
mixture for 2 minutes.
Now add boiled peas and cook for 3-5 minutes till
to thick consistency.
Add chopped coriander in gravy for garnishing
and serve hot with Indian flat bread or rice.
Notes: You can try this mixture with fresh corn
and paneer.
Tags
:
Mothersmagicfoods
, smilemix,
smilequickmealmixes, methimutter, methimatarmalai, maincourse, gravy,
lunchdinnermeals, lunchboxrecipes, pea's recipes, milk recipes, methi recipes,
vegetarian recipes, product reviews, simplytadka, Instant recipes.
Enter your email address:
Delivered by FeedBurner