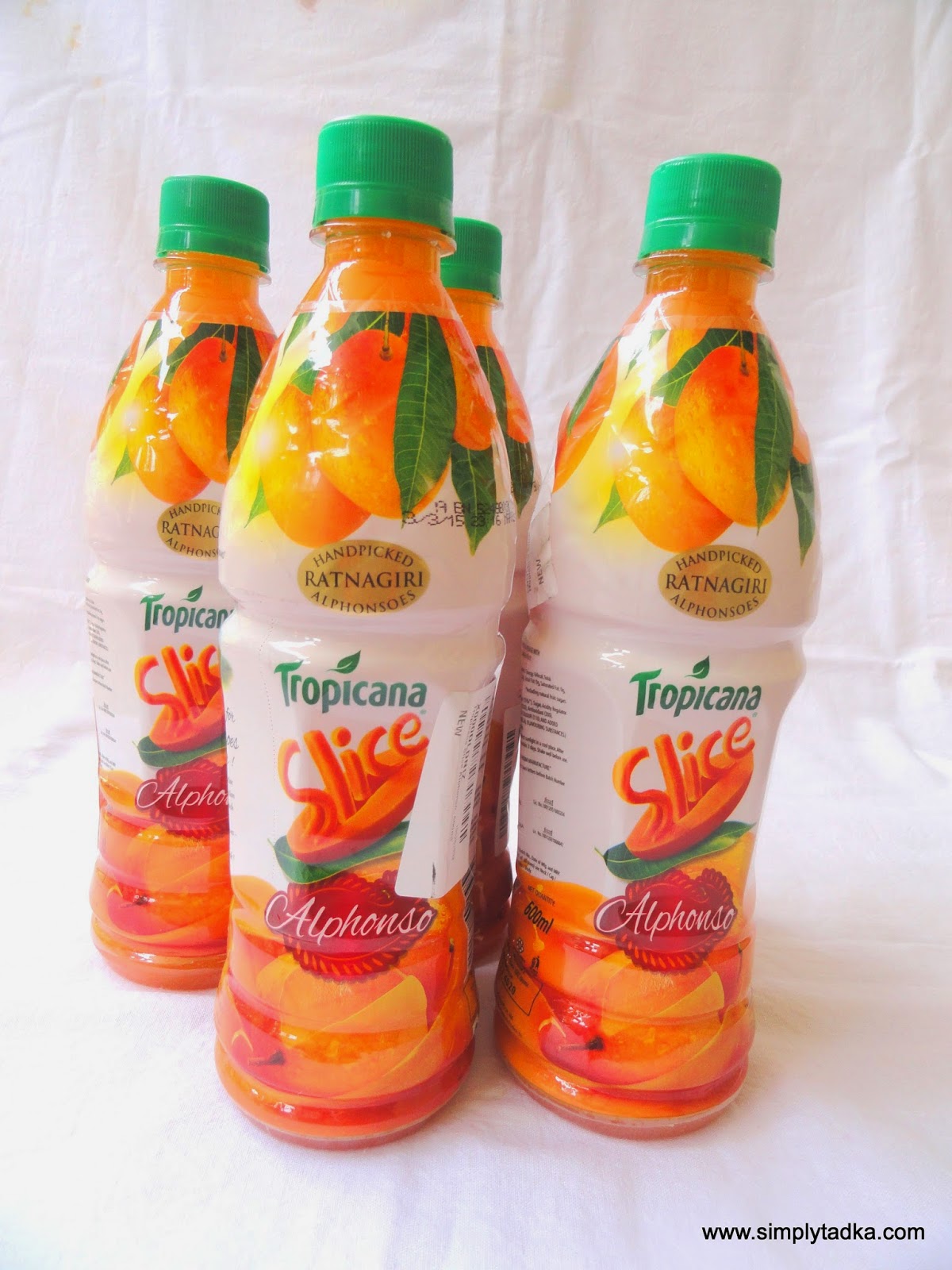 Last Updated on
For our family summer
season means mango season. Always wait for Mangoes in summer, lots of varieties
available in market to taste and Alphonso is my favorite, also called the King
of Mangoes. Now Alphonso mango is available in liquid form, all because of Tropicana
brand that launch new product Tropicana Slice Alphonso Mango Drink. The bright
orange yellowish color of liquid will make you fall in love with sweet aroma of
Ratnagiri Mangoes which are available in Maharashtra. Ratnagiri Alphonso is one
of the finest mangoes in the world.
Yesterday I received
a big package of six bottles of Tropicana Slice. Taste is so rich and fresh,
original alphonso flavor in drink makes you feel that you are eating a whole
mango. It's just as homemade mango juice in thick consistency compared other
which are little light in consistency. The price of this product is also under
budget, you have to pay just 50 Rs for 600ml Pet bottle. This is definitely a
better alternative to Frooti and Mazza, which has been supplying mango drink in
market. The packaging was awesome and solid PET bottle.
Personally
recommend all to try once and enjoy the sweetness of Tropicana Slice. This time
I got courier with very high class and creative packaging. I love the way they
pack the bottles in bubble bottle covers.
You can share this
product as a gift pack on special occasion or whenever you want through Amazon.in,
they delivered the product on free delivery with wonderful packing.
In
a statement, Vidur Vyas, Senior Director Marketing, PepsiCo India, said,
"Tropicana Slice has always focused on bringing to consumers new exciting
innovations, thereby taking the mango indulgence to the next level. Last year,
we launched three signature variants – Kesar, Dussehri and Banganapalli, made
from three most loved varieties of mangoes and this year we complete the range
by launching the undisputed king of mangoes- Tropicana Slice Alphonso, which is
made from pure Ratnagiri Alphonso pulp."
Slice –
Nutritional Facts & Ingredient Details
NUTRITIONAL
INFORMATION (Approx.)

Per
100ml

Energy

kcal

63

Carbohydrate

g

15.8

Sugars*

g

15

Protein

g

0

Fat

g

0
*
Total Sugars
INGREDIENTS
Water
Sugar
(12.9%) Concentrated Mango Pulp &
Alphonso Mango Pulp
Acidity
regulator (330) Stabilizer (440) Preservative (202) Antioxidant(300) Colours(102,110)
CONTAINS PERMITTED SYNTHETIC FOOD
COLOURS AND ADDED FLAVOUR (NATURAL AND NATURE IDENTICAL FLAVOURING SUBSTANCES)
No
artificial Flavouring, Contains Mango and Alphonso Mango pulp: 13%
Tags: Product review, Tropicana, Pepsico, Slice, Mango Drink, Alphonso mangoes, Beverages.
Enter your email address:
Delivered by FeedBurner