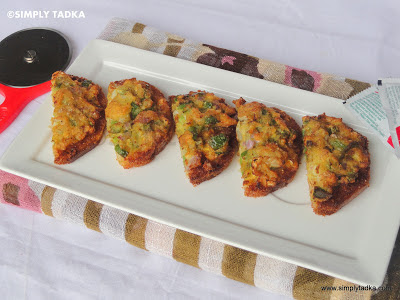 Last Updated on
This time I prepare very different and crispy
snack that we call Ringo, it's just like a pizza in Indian style. It's a super
hit snack for specially kid's party. You can serve this ringos with green dip
or ketchup and tea. Ringo is deep fried snack in which combine colorful veggies
with dal batter and spread on bread slices. You serve round form or quarterly
whatever you like. For this recipe, I prefer common vegetables like onion,
capsicum and carrots but you can change these vegetables with according to preference
and availability.
Soaking
Time: 4-5 Hours
Preparation
Time: 20-25 Minutes
Cooking
Time: 30 Minutes
Servings: 10
Pieces
Category: Funky Food
Ingredients
10 Bread Slices
1 Cup Yellow Split Gram/ Dhuli Moong Dal
1/2 Cup Bengal Gram/ Chana Dal
1/2 Cup Onion, finely chopped
1/3 Cup Green Capsicum, finely chopped
1/3 Cup Carrots, finely chopped
1/3 Cup Cucumber, finely chopped
2 Green Chili, finely chopped
Salt to Taste
Red Chili Powder to Taste
1/2 Tsp.Black Pepper Powder
Oil, for deep frying
Chaat Masala for Seasoning
Tomato Ketchup, for dip
Instructions:
Wash and soak the both lentils in water for
overnight or atleast 4-5 hours. Drain the whole water and blend it till to
smooth consistency batter with little small quantity of water (approx. 1
tbsp. if needed).
In second step, chop the all vegetables; capsicum,
onion, green chili, carrot in finely form. Combine lentil batter, chopped
vegetables, salt black pepper and red chili powder together in large bowl.
Cut
the bread pieces into round shape with the help of bowl or cookie cutter. Heat
the enough oil in wok for deep frying, when oil is hot enough. Spread the paste
on bread slices evenly and place the slice in hot oil carefully from the top side first and fry till to golden. Do same
procedure with rest of slices and batter.
Now cut the bread slices into
quarterly with the help of pizza cutter and sprinkle chaat masala on the top of
ringos. Serve this hot ringo with ketchup and tea or coffee.
Note:
1) You can add any number of vegetables according
to color and choice.
2) Don't spread batter in excess quantity. Just spread as thick layer evenly.
Blogging Marathon page for the other Blogging Marathoners doing BM#29
Enter your email address:
Delivered by FeedBurner