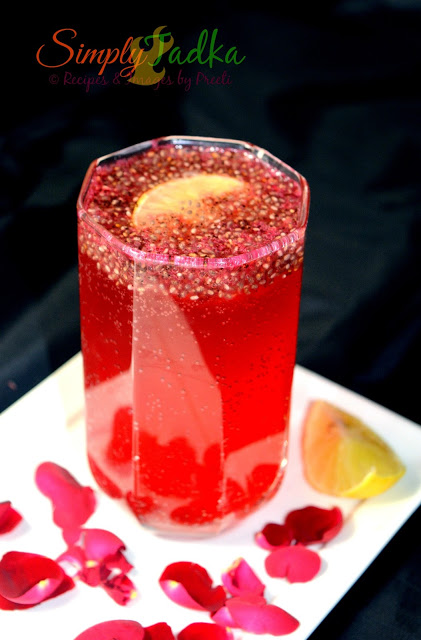 Last Updated on
Roohafza
is very popular syrup in Indian families. It's natural and herbal sweet syrup
that is made with fruits, vegetables and herbs. You can add this roohafza syrup
in both water as lemonade, shikanji and milk as shakes, sherbet and lassi.
Sabja
seeds are cooling and good for digestion. You need to soak the seeds in water
for minimum half hour in water after that you can use them in smoothies,
icecreams, shakes and many more desserts and drink recipes. 
You can
use this red bright color syrup on desserts like icecreams, pudding, custard,
shakes and more for garnishing purposes. It gives wonderful appeal plus
enhances the taste of dish.  
Roohafza Lemonade | Lemonade Recipes
Preparation Time: 5 Minutes
Cooking Time: 0 Minutes
Servings: 2
Category: Beverages
Cuisine: Indian
Ingredients:
4
Tbsps. Roohafza Syrup
1 Tbsp.
Chia Seeds/ Sabza Seeds, Soaked
2
Tbsps. Lemon Juice
Black
Salt
Black
Pepper Powder
Soda
Water
Few Ice
Cubes
Instructions:
Soak
the sabza seeds or chia seeds in water for 30 minutes.
In a
pitcher, add roohafza syrup, lemon juice, black salt, black pepper, ice cubes
and soaked chia seeds.
Add
soda water or sparkling water and mix well.
Serve
immediately in tall glasses.
Tags: how to make roohafza
lemonade, lemonade recipes, summer cooler, beverages, blogging marathon,
roohafza recipes, lemon recipes, soda recipes, quick and simple recipes,
instant recipes, simply tadka, sabza recipes, chia seeds recipes, basil seeds
recipe, sharbat recipes, Indian drinks.
Enter your email address:
Delivered by FeedBurner