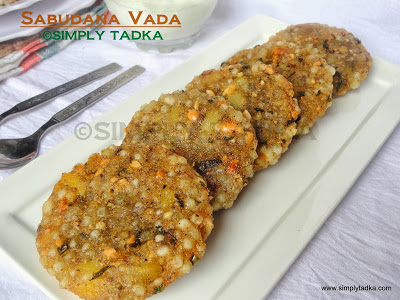 Last Updated on
Sabudana or Sago pearls is deep fried, crisp
and crunchy vadas which made with boiled potatoes, sagos and salt. It's a great
snack for Navaratri days, accompaniment with hot tea and chutneys. This vadas
are very popular appetizer in Maharashtra, easy to make with few ingredients. I
prefer this vada in chaat form with green chutney, sweet chutney and curd.
Preparation
Time: 4 Hours
Cooking
Time: 30 Minutes
Servings:
4
Category:
Falahar/ Snacks
Ingredients:
2 Cup Sago/ Sabudana, Soaked
4 Potatoes, boiled and mashed
1/2 Cup Peanuts, roasted and crushed
3 Green Chili, chopped
Handful Green Coriander, chopped
Salt to taste
Black Pepper Powder to taste
2 Tsp. Roasted Cumin Powder
Oil for Frying
Instructions:
Soak the sabudana or sago for atleast 4
hours or overnight in water.
Squeeze out the water completely.
Combine sago, mashed potatoes, chopped
green chili and green coriander.
Add crushed peanuts and spices in same bowl
and mix well.
Divide the mixture into equal portions.
Grease the little oil on palm.
Give the round tikki shape to each
portion and keep aside.
Heat the ghee or oil on high flame, when
oil is hot enough.
Add vada one by one and fry them until to
golden and crisp on low flame.
Serve this vadas with chuntey and curd.
Note:
If your mixture is moist, add rice flour
and in case of fast or vrat, add kootu or singade ka aata.
You can use dry nuts instead of crushed peanuts.
I used 2 cup soaked sago pearls for this recipe, they become doubles after soaking process.
Enter your email address:
Delivered by FeedBurner