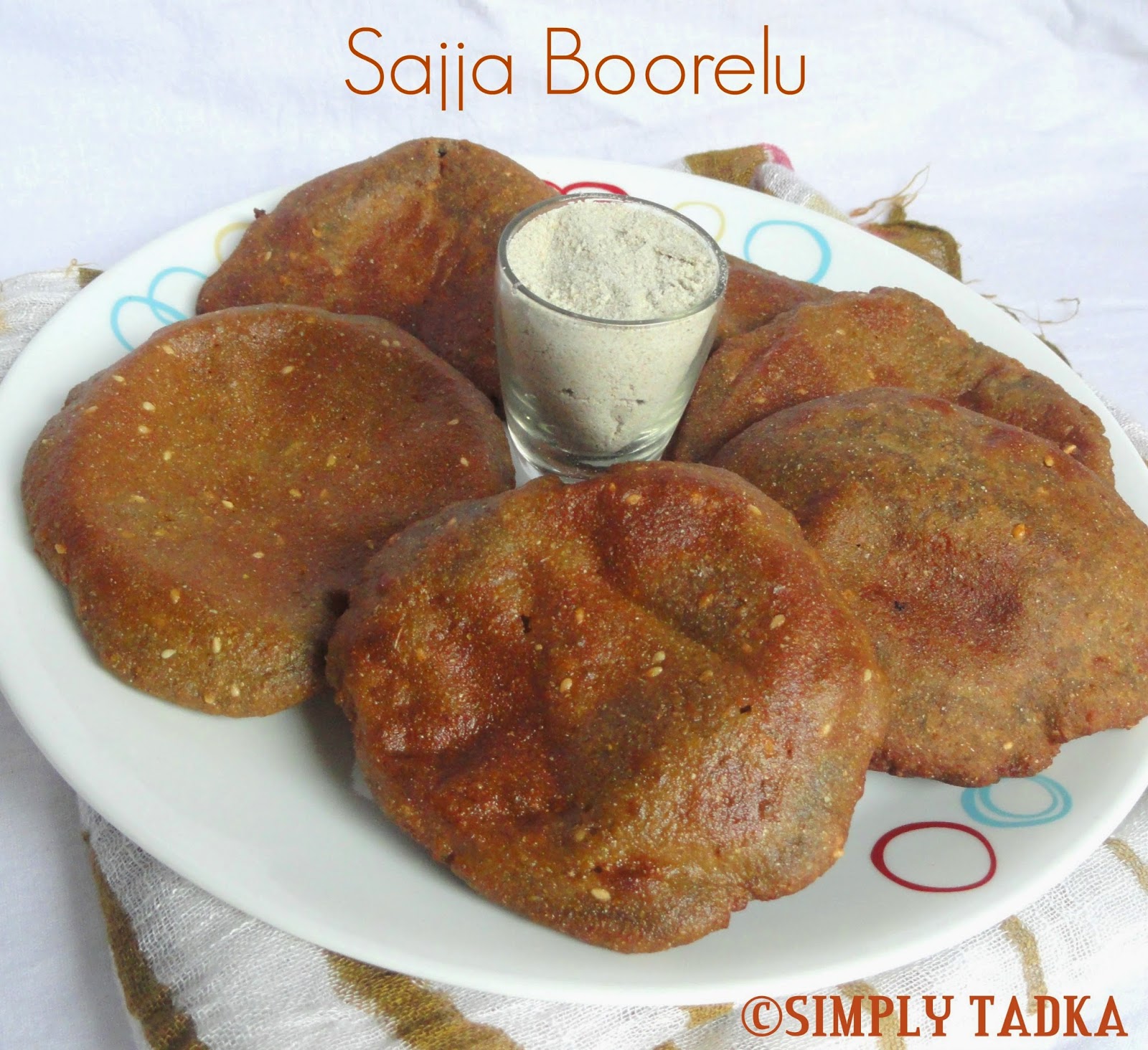 Last Updated on
Traditionally
Boorelu is sweet India dish in the Telugu festival which made with rice flour,
coconut and jaggery. It's mostly served hot with ghee but Sajja Boorelu is
Andhra special which made with green millet flour or bajra. Boorelu were very
much popular in south region which prepared on the occasion of Sankranti. For
this recipe, we have to combine jaggery and flour together and prepare semi
soft dough and fried them as puris. You can keep these sweet delicacies for
more than week in dry and air tight container.
After a long time, I prepared one recipe
for Indian cooking challenge event which hosted by Srivalli. She had chosen
Sajja Boorelu recipe from Andhra cuisine which suggested by Padma Rekha which
are easy to cook and quite healthy because of ingredients are millet flour and
jaggery.
Preparation
Time: 20 Minutes
Cooking
Time: 30 Minutes
Servings:
4
Category:
Sweet
Cuisine:
Andhra Cuisine
Ingredients
2 Cup Bajra Atta/ Green Millet Flour
1 Cup Jaggery/ Gur
1/2 Tsp. Cardamom Powder
3 Tbsp. Coconut Powder
Oil for deep frying
Instructions
Melt the jaggery with 2 cup of water and
drain it to remove the impurities.
Now sieve the flour and combine with
jaggery syrup, coconut powder and cardamom powder and add enough water to knead
semi soft dough.
Divide the dough into equal portions. Take
a plastic sheet or aluminium foil and apply some oil and roll it one ball into
round form.
Heat the sufficient oil in deep and heavy
bottom pan. Fry the each circles in small batches on low flame until to brown
and cooked well. Serve hot boorelu.
Notes: You can store these sweets for more
than one week in airtight container. You can add sesame seeds also instead of
coconut or both.
Tags
: How to prepare boorelu, boorelu
recipes, sajja recipes, Andhra recipes, sweet recipes, bajra recipes, jaggery
recipes, green millet recipes, fried recipes, easy recipes, festival recipes,
simplytadka recipes, how to cook sajja boorelu recipe at home, cardamom powder,
indian recipes,
Indian Cooking Challenge
event hosted by Srivalli
Enter your email address:
Delivered by FeedBurner