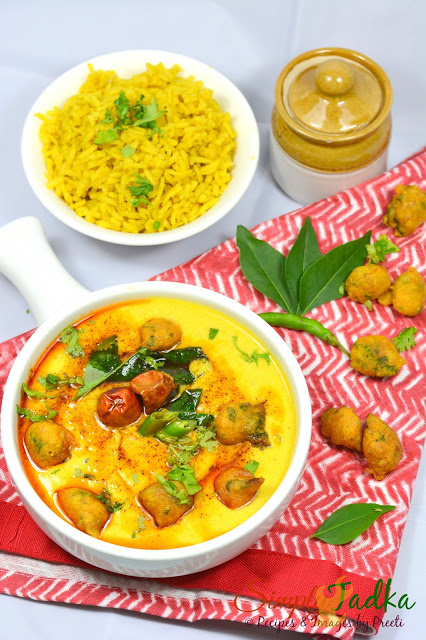 Last Updated on
Kadhi is
very interesting curry which made with buttermilk and gram flour, but you can find
little twist in making of kadhi. Each state and region has their own way of
making kadhi. We have various kadhi like Punjabi kadhi, Gujarati Kadhi, Rajasthani
Kadhi and Haryanvi Kadhi and may more. Punjabi kadhi generally made with
buttermilk and flour in thick and creamy consistency. For tempering, we used
lots of chilies, ginger and jeera tadka. My entire family love kadhi rice
either made with pakoras, plain or spinach or vegetables.
This time I tried
kadhi with sattu i.e. roasted chickpea flour instead of common gram flour. For this
kadhi, mix the buttermilk with sattu and blend it for smooth texture. For tempering,
we used Bihari cuisine spices like ginger, garlic, chilies, nigella seeds,
mustard oil and curry leaves. The texture also slightly thin compare to Punjabi
kadhi.
Sattu is
flour basically prepared by dry roasted grams or grains. Sattu is quite popular
in the state of Madhya Pradesh, Orissa, Jharkhand, Bihar, Punjab and Uttar
Pradesh.  In Bihar, Sattu is prepared with toasted gram flour. It is also
known as desi Horlicks in the state of Bihar. Sattu includes
good amount of protein and fiber which is good for digestion and gives lots of
energy. It even helps us in balancing our diet.
Other Recipes of Kadhi are here: 
Tamatar Ki Kadhi
Palak Ki Kadhi
Gujarati Kadhi
Dapka Kadhi
Punjabi Kadhi
Sattu ki Kadhi | Protein Rich Bihari
Style Sattu Ki Kadhi
Preparation
Time: 10 Minutes
Cooking
Time: 40 Minutes 
Servings:
2
Category:
Main Dish
Cuisine:
Bihar
Cooking
Method: Boiling
Ingredients 
For
Kadhi Mixture
1/4 Cup Sattu/
Roasted Chana Flour
2 Cups Buttermilk
or Sour Curd
Salt
to Taste
1
Tsp. Coriander Powder
Red Chili Powder to
Taste
1/2 Tsp. Turmeric
Powder
For
Tempering
1 1/2 Tsp. Ginger
Garlic Paste
1/2 Tsp. Cumin
Seeds
Pinch of
Asafoetida
1/2 Tsp. Nigella
Seeds
3-4 Green Chilies
Few Curry Leaves
2-3 Whole Dried
Red Chilies
2 Tbsps Mustard
Oil
For
Sattu Dumplings
1/4 Cup Sattu
Flour
1 Tbsp. Gram Flour
1/4 Tsp. Salt
1/4 Tsp. Turmeric
Powder 
1/4 Tsp. Red Chili
Powder
1 Tbsp. Coriander
leaves
1/4 Tsp. Carom
Seeds
Oil for frying
Instructions 
Combine all the
dumpling ingredients in one bowl and add water approx. 1-2 Tbsps., make a thick
consistency paste. 
Heat the oil in
frying pan, when oil is hot enough. Add teaspoonful batter in oil and frying
them till to golden brown. 
Combine
buttermilk, flour, spices together with extra 1 cup of water. Blend it to
remove lumps. 
Now heat the
mustard oil in a thick bottom kadai. When oil starts burning, add cumin seeds,
nigella, asafoetida. 
Now add red
chilies, green chilies, curry leaves and sauté 2 seconds to release the aroma.
Now add ginger
garlic paste and stir it. Add flour buttermilk mixture and stir it. When kadhi
starts boiling, bring it on low flame and let it cook on low flame for atleast
30 minutes.
Add dumplings in
kadhi in between cooking. 
Garnish with green
coriander leaves. Serve warm kadhi with rice or phulka. 
Notes: You can bake or
fry the dumpling in appam or paniyaram mold.
Try to add
dumpling in the end otherwise they will soak up the kadhi and make it thick
gravy consistency.
Tags: How to make
sattu ki kadhi, sattu recipes, roasted chickpeas flour, bihari cuisine, kadhi
recipes, Indian curry, Blogging marathon, simplytadka, food blogging, main
dish, main course, vegetarian, medium level cooking, boiling, buttermilk
recipes, flour recipes, protein rich recipe, low calorie recipes, dinner menu,
lunch menu, everyday recipes, gluten free recipes, yellow curry recipes,
simmering, healthy recipe.
Did you make this recipe?
If
yes, do let us know how it turned out in the comments below.
Do share a picture
with us 
simplytadka@gmail.com
  or share
on Instagram with hashtag #simplytadkarecipes and tag us @simplytadka 

 Check out the Blogging Marathon page for the other Blogging Marathoners doing BM# 80