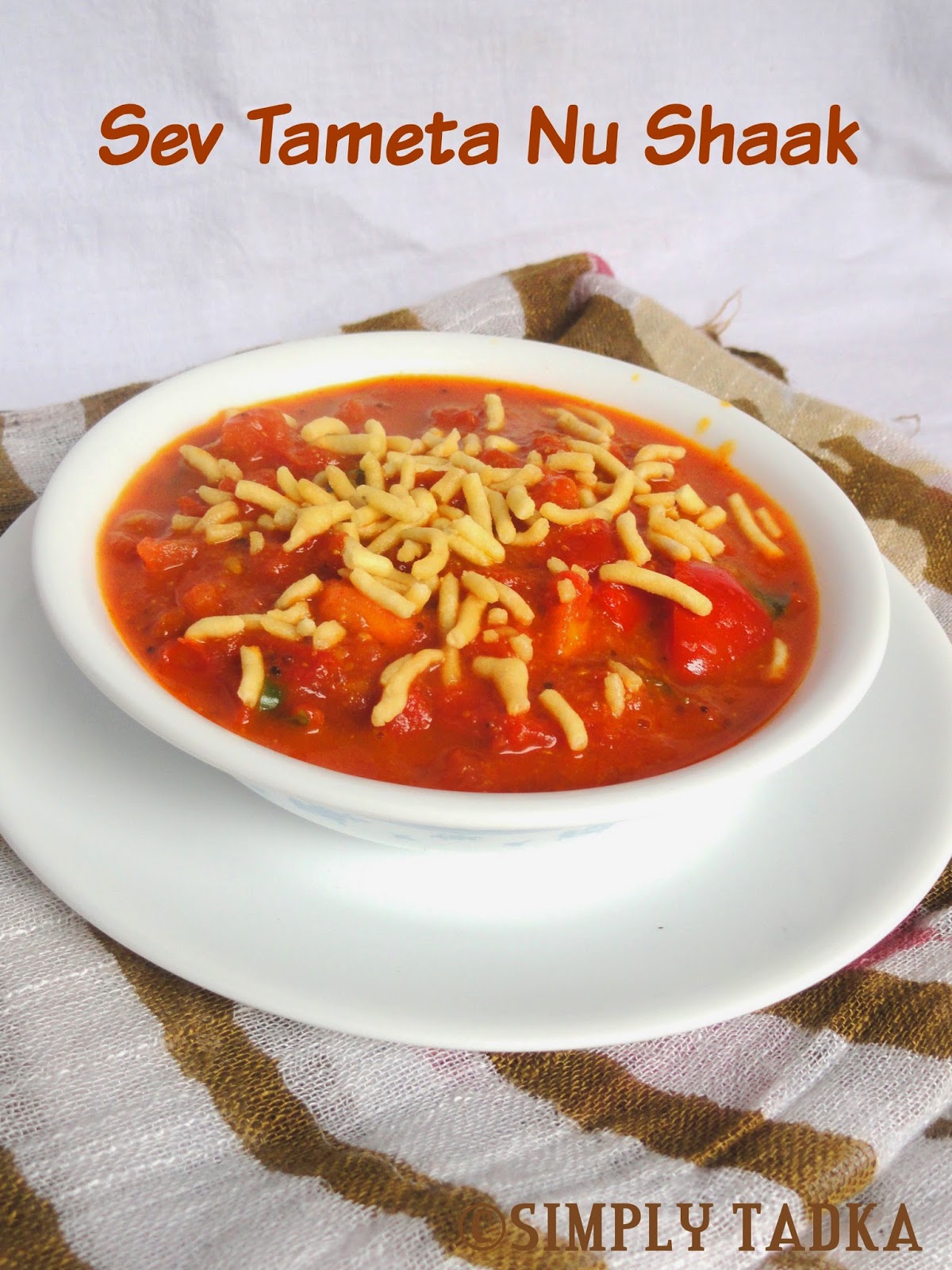 Last Updated on
Sev Tameta nu shaak or tamatar sev ki sabzi
is popular Gujarati cuisine which enhances the flavour of tomatoes with combo
of sweet and savory both taste. It's a tomato sev based curry prepared with
tomatoes, green chilies and sev. As
tradition, I avoid the onion and garlic in this recipe but you can add the
chopped onion while making this sabzi. Add the sev at the end when you serve,
or else sev turns soggy. You can serve this main course with rotis and theplas.
Preparation
Time: 10 Minutes
Cooking
Time: 15 Minutes
Servings: 4
Category: Indian
Curries
Cuisine:
Gujarati Cuisine
Ingredients:
2 Cup Tomatoes, Chopped
1/2 Cup Sev
1 Green Chili, Finely Chopped
1/2 Tsp. Turmeric Powder
1 Tsp. Coriander Power
1/2 Tsp. Red Chili Powder
Salt to Taste
2 Tsp. Sugar
For
Tempering
1 Tsp. Mustard Seeds
1/4 Tsp. Asafoetida/ Hing
5-6 Curry Leaves
2 Tbsp. Oil
Instructions:
Heat the oil in a non-stick wok and add mustard
seeds, asafoetida and curry leaves. When they starts splutter, add chopped
green chilies and stir 2 minutes. Add chopped tomatoes and spices and mix well.
Cook till the tomatoes are soft and cooked on simmer flame for 8-10 minutes. Remove
from the flame, add sev and serve with rotis.
Notes:
Add sev at the time of serving otherwise
sev will turn soggy.
Tags:
how to prepare tamatar nu shaak at home, Gujarati recipes, kathiawadi recipe, simplytadka,
simple recipe, tomato recipe, tamatar recipe, main course recipes, side dish,
lunch and dinner menu, regional recipe, easy vegetarian recipe,
Enter your email address:
Delivered by FeedBurner