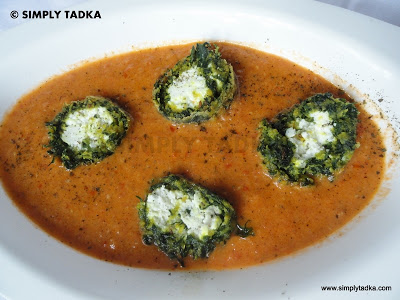 Last Updated on
Again I choose
cooking from cook book theme, for this I prefer cottage cheese as an
ingredient. My first recipe under this theme is very popular and signature
recipe of Master Chef Sanjeev Kapoor i.e. "SHAAM SAVERA". For this recipe we
have to prepare stuffed spinach kofta with paneer and buttery tomatoes gravy.
As I can't compare
myself with great master chef sanjeev kapoor, he is really genius….. just try
this lovely recipe and It's taste really awesome and buttery and great combo
with butter naan. For original recipe go with
www.sanjeevkapoor.com
.
Preparation Time: 20 Minutes
Cooking Time: 30 Minutes
Servings: 3 Persons
Ingredients
For Kofta
2 Cup Spinach Leaves,
Blanched
1/2 Cup Cottage
Cheese, Grated
Salt to taste
Pinch of Green
cardamom powder
1 Tbsp. Oil
1/2 Tsp. Cumin seeds
1 Green chili, Chopped
2 Tbsp. Gram flour
1/4 Tsp. Turmeric powder
Corn Flour for
dusting
For Gravy
3 Tomatoes Puree
2 Green chili,
Chopped
1 Tsp. Ginger,
Grated
3 Tbsp. Butter
Salt to taste
1/2 Tsp. Red Chili
Powder
1 Tsp. Roasted
Fenugreek leaves powder
Direction
Clean and chop the spinach
leaves and blanch in boiling water for 10 minutes. Drain and wash under cold water to
maintain green color of spinach. Squeeze and chop finely this blanch leaves. Heat the pan and add oil, cumin seeds, green chili and sauté for 2 minutes. Add
gram flour and sauté again for 2-3 minutes. Add turmeric powder, salt and
chopped spinach. Stir till to dry and leave the sides of pan. Keep aside to
cool.
Add grated cottage
cheese, salt and cardamom powder and mix well in another bowl. Divide the both
mixture into equal portions. Take spinach portion first and flatten into palm and
keep the paneer ball in the centre. Cover the paneer ball with edges of spinach
portion in round form. Roll out this ball in cornflour and deep fry till to
golden.
Blend the tomatoes,
green chili and ginger together as a puree. Heat the wok with butter. Sauté tomatoes puree
for 10-15 minutes and add salt, red chili till to thick gravy. Add more butter
on the top of gravy and cook for 2-3 minutes more. Add roasted fenugreek leaves powdered.
Now slightly cut the
spinach ball in to halves. Now add the gravy in one bowl and arrange the halves
of spinach balls. Garnish with roasted fenugreek powder and cream.
Enter your email address:
Delivered by FeedBurner