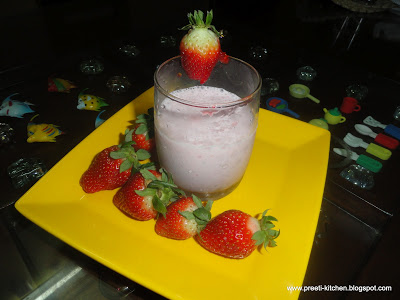 Last Updated on
My first post for the
VALENTINE WEEK is SLUSHY STRABERRY VANILLA SHAKE. It's very tasty and chilled
drink and good summer as well winter both. Under this I used strawberry and
vanilla ice-cream for creamy texture.
4 large strawberries
1 tsp. of sugar
1/2 cup of whole milk
2 vanilla ice-cream scoops
1 cup of ice cubes
Directions
Blend strawberries with
milk on low speed till well smooth, than add sugar
and blend on high speed for about 1 minute. Add ice cubes and ice-cream blend
on high speed, texture should be slushy and smooth. Serve in chilled glass.