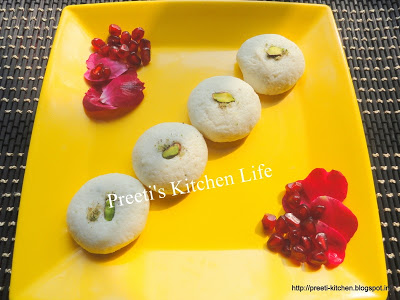 Last Updated on
Today is day of celebration i.e. Diwali.  So first of all I want to say HAPPY DIWALI to
all my friends and followers. In Blogging Marathon #22 under West Bengal Theme,
I choose Bengali Sweet "Sondesh".
Sandesh can be prepared with cottage cheese with different flavors
for unusual taste. Under this recipe, Bengal's super hit sweet, made with sweetened cottage cheese and flavored
with cardamom and pistachios.
Preparation Time: 25
Minutes and Chilling time
Cooking Time: 0
Minutes
Serving: 4-5 pieces
Ingredients:
400ml full cream milk
Half lemon
1 tsp. Elachi powder/ Green cardamom powder
3 tbsps.  Powdered sugar up
to taste
Pistachios, halves
Directions:
Boil the milk and
add half lemon juice.
Wrap the curds in a muslin cloth, rinse under cold water, and squeeze
well.
Once the paneer is drained completely, knead the paneer for 5-10
minutes just like dough; now add powdered sugar and cardamom powder for good
flavour. Knead well again.
Now
give proper shape in oval or round shape, you can use mould for different
shape.
Garnish
with cardamom powder and pista on the top of sondesh and place in freeze till
to serving time. Now Bengali sweet Sondesh is ready to serve.
Submit this recipe
with following events:
Blogging Marathon page for the other Blogging Marathoners doing BM#22