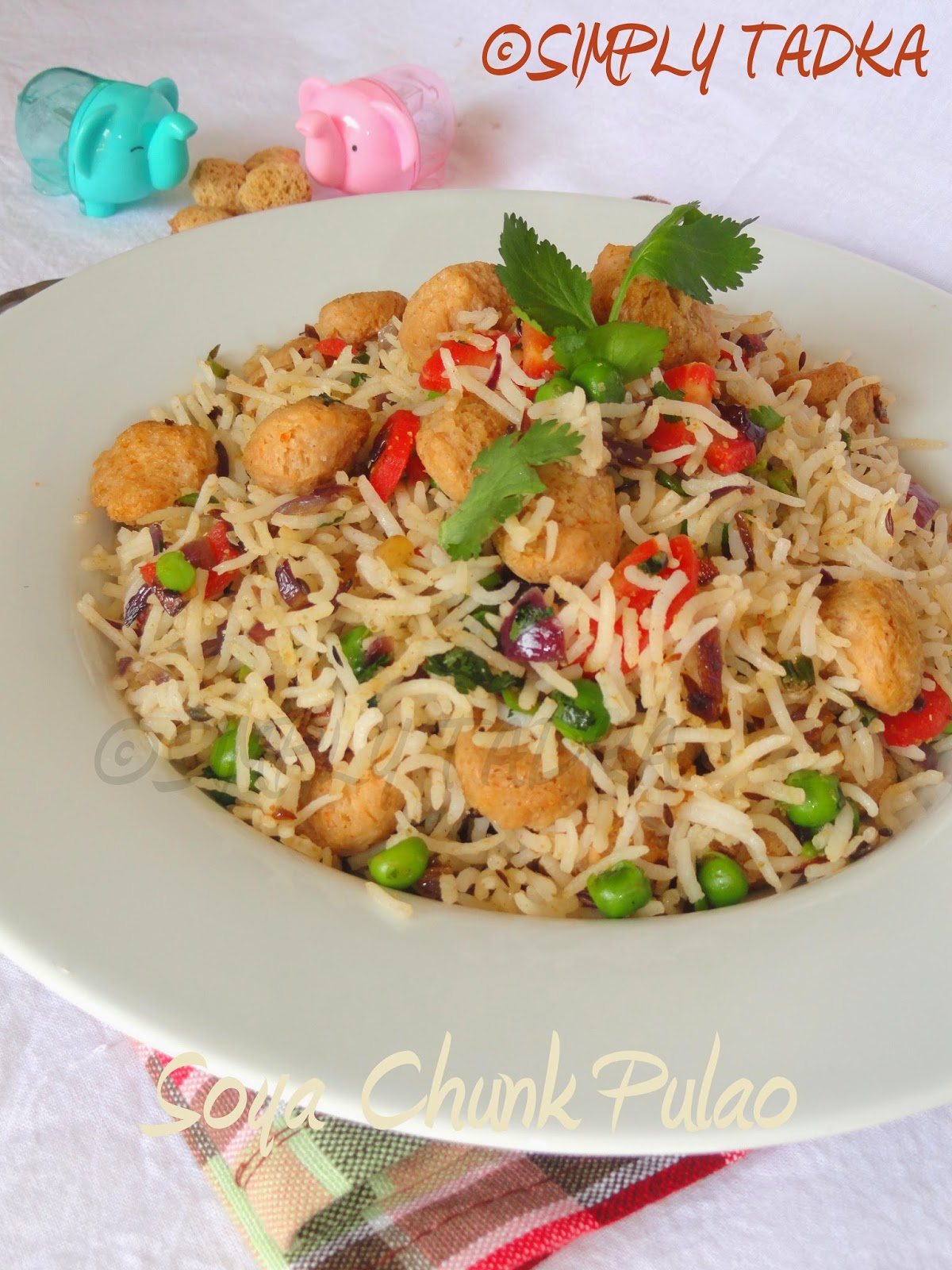 Last Updated on
Soya Chunk Pulao is completely healthy
version of rice recipe in which includes soya chunks, mix vegetables and rice
which enhance the color of platter and taste also. Soya chunks are rich in fibre,
vitamins and proteins. It's good for everyone especially for growing kids, you
can serve this soya in various form like in gravies, with rice, can prepare
snacks also and its complete our balanced diet.
Preparation
time: 30 Minutes
Cooking
time: 20 Minutes
Serving: 4
Category:
Rice
Ingredients:
1 Cup Dried Soya Chunks, Boiled and Squeezed
2 Cups Basmati Rice, Soaked
2 Medium Onions, Chopped
1 Medium Potato, Chopped
1 Small Carrot, Chopped
1/3 Cup Peas
1 Tsp. Ginger, Finely Chopped
2 Green Chilies, Finely Chopped
2 Tbsp. Desi Ghee/ Clarifying Butter
1 Tsp. Cumin Seeds
1 Bay Leaf
Salt to Taste
1 Tsp. Red Chili Powder
2 Tsp. Coriander Powder
Green Coriander Leaves, Chopped for
garnishing
Instructions:
Wash and boil the dried soya chunks in water
for 10 minutes. Squeeze out the whole water and keep aside.
Heat the ghee in heavy and deep bottom vessel.
Add cumin seeds and bay leaf and sauté till the crackle.
Add green chili and ginger, sauté for 1
minute. Add chopped onion and sauté until to translucent.
Add green peas, carrot and potatoes and cook
for 5 minutes.
Add soya chunks and coriander powder, salt,
red chili powder and sauté for 2 minutes more.
Add soaked rice and 5 cups of water and mix
well. Reduce heat to medium and cover and cook with lid.
When rice and vegetables are cooked, add
lemon juice and garnish with fresh green coriander.
Notes: For more
flavorful pulao, you can add 1/2 tsp. of garam masala. You can skip the lemon
juice.
Tags:
How
to cook soya chunk pulao, pulao recipes, rice recipes, rice, pulao, soya
recipes, soya chunks recipes, main course recipes, lunch and dinner meals,
tiffin recipes, picnic food, healthy recipes, how to prepare rice recipes, soya
nuggets recipes, Nutella recipes.
Blogging Marathon page for the other Blogging Marathoners doing BM#41
Enter your email address:
Delivered by FeedBurner