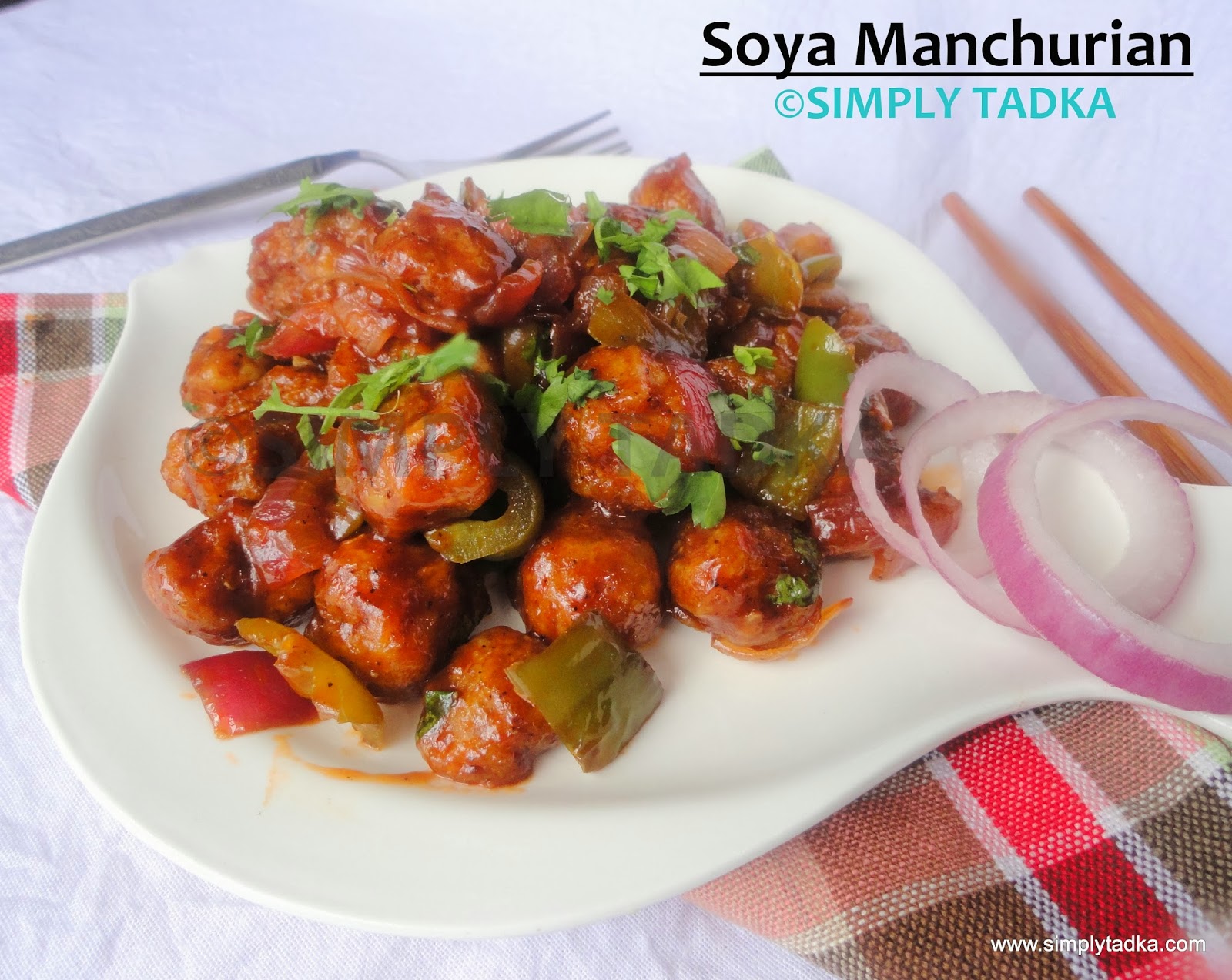 Last Updated on
Manchurian is Chinese recipe in which
vegetable dumpling serves with sauce based gravy. These days, many variations
available in Chinese Manchurian recipe and out of all, today I choose to share
Soya Manchurian with you.
Alphabet of the day is "S", S for Soya
Manchurian. Soya nuggets are good source of proteins. Soya Manchurian is
prepare with fried nuggets and serves in soya sauce and onion based curry. You
can serve or enjoy this Manchurian with fried rice and noodles. Here you can
check other
Manchurian variations
.
Preparation time: 30-40 Minutes
Cooking time: 30 Minutes
Servings: 4 Persons
Category: Chinese
Ingredients
For Soya Chunks
2 Cup Soya Nuggets
2 Tbsp. Cornflour
1 Tsp. Salt
1/2 Tsp. Turmeric Powder
For Manchurian
1 Cup Capsicum, diced
1 Cup Onion, diced
2 Green Chili, finely Chopped
2 Tbsp. Coriander Leaves, Chopped
1 Tbsp. Soya Sauce
1/2 Tbsp. Green Chili Sauce
1 Tbsp. Tomato Ketchup
1 Tsp. Vinegar
1/2 Tsp. Ajinomoto
1 Tsp. Cornflour
Salt to taste
1/4 Tsp. Sugar
Black Pepper to Taste
1 1/2 Tbsp. Canola Oil
Vegetable
oil for deep frying
Instructions:
Boil and
drain the soya chunks as per packet instructions.
Squeeze out the
water from the inside of soya chunks.
Combine the
soya chunks, turmeric, salt and cornflour in one bowl. Mix well.
Keep this
soya chunks in freeze for 15 minutes.
Heat the oil
on high flame and fry them till to golden on medium flame. Drain them.
Heat the
canola oil and saute onion and chili till to translucent.
Add capsicum
and saute till to slightly soft.
Add the
sauces and cornflour in 1/4 Cup of water and mix with saute vegetables.
Add vinegar,
ajinomoto and mix well. Add fried soya nuggets. Cook for 5-7 minutes more.
Add salt,
black pepper and sugar and mix well.
Garnish with
chopped coriander and serve hot Soya Manchurian.
Enter your email address:
Delivered by FeedBurner