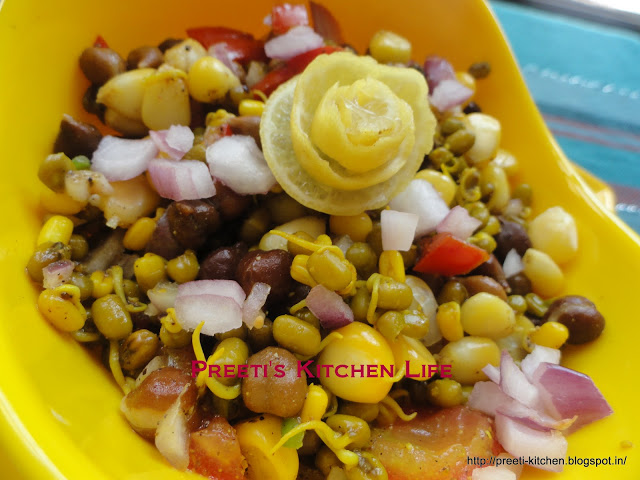 Last Updated on
Today I choose "Sprouts and Corn Salad" as a Low Calorie Breakfast
in BM #20, Hope so my viewers like all three recipes which I choose for this
theme. Under this recipe, we add two types of sprouts and corn, add dressing
with lemon juice and spices. You can add any of vegetables or fruits according
to your suitability.
I serve this salad in breakfast time with some chilled juice; it's
a healthy and easy meal which prepared by anyone or anytime.
Sprouting is the practice of germinating seeds to be eaten either
raw or cooked. Sprouted foods are
a convenient way to have fresh vegetables for salads, or otherwise, in any season and can be germinated at home or
produced industrially. They are a prominent ingredient of the raw food diet and common in Eastern Asian cuisine.
Legumes are the great source of 20%-25% of proteins, fibre, and
vitamins A, C, E and minerals i.e. iron, potassium. Legumes includes mung,
peas, Bengal gram and ground nuts.
Preparation Time: 10 Minutes
Cooking Time: 15 minutes
Serving: 2 Persons
Ingredients:
1/3 Cup Black Chickpea (Sprouted)
1/3 Cup Whole Green Gram (Sprouted)
1/3 Cup Sweet Corn (Half Boiled)
1 Small Onion, Chopped
1 Small Tomato, Chopped
1 Small Green Chili, Chopped
1/4 Tsp. Turmeric Powder
1/2 Tsp. Black Pepper Powder
Salt to taste
Chaat Masala
Lemon Juice
Directions:
Add chickpea sprouts and green gram sprouts together with turmeric powder,
water and salt in pressure cooker, cook till 5-6 whistles and remove from the
flame.
Drain whole the water from the sprouts. Now combine sprouts, boiled
corn, tomatoes, onions, green chilli, salt, chaat masala and black pepper
powder and lemon juice in same bowl and serve with full glass of juice in
breakfast meal.
Notes: You can cucumber,
radish, beetroot, cabbage, capsicum whatever your choice.