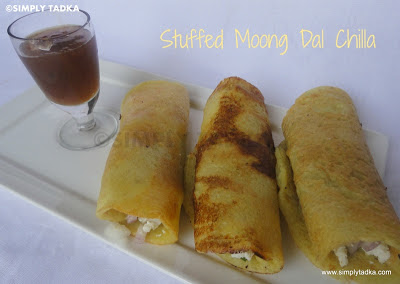 Last Updated on
On the third day
of Indian flat bread theme, I prepare "Stuffed Moong Dal Chilla"; it's a blend
form of Indian flatbread. For this recipe, we have to make smooth consistency
batter with moong dal and rice flour and stuffing with paneer and onions.
Mostly moong dal chilla is prepared with only moong dal batter but I prefer to
add little rice flour for little crispiness and crunchy taste. You can prepare
stuffing with any other ingredients which easily available or according to
taste. Personally I like to add paneer stuffing. Moong dal chilla is
very popular in North India as street food, but sometimes its serve as main
course as Indian flatbread with green chutney and sweet imli chutney.
Preparation
time: 1 Hour
Cooking
time: 15-20 Minutes
Servings:
6-7 Pieces
Ingredients
1 Cup Yellow Split Gram/ Moong Dal
2 Tbsp. Rice Flour, Sieve
1 Green Chili
1/2 Tsp. Salt
Pinch of Asafoetida
For Stuffing
1/2 Cup Cottage Cheese/ Paneer, Grated
1 Medium Sized Onion, Chopped
1 Green Chili, Chopped
1/4 Cup Green Coriander, Chopped
Salt to taste
1/2 Tsp. Red Chili Powder
1/2 Tsp. Chaat Masala
Pictorial
Batter
Stuffing
Direction
Wash and Soak the lentil in water for one-
two hours. Grind the moong daal with green chili, salt and little water as
thick and smooth batter. Add rice flour, asafoetida and little water for thick
and smooth consistency batter.
In large bowl, add chopped onion, green
chili, green coriander and grated paneer. Add salt, chaat masala, red chili
powder and mix well.
Heat the non-stick tawa or pan on medium
flame, when is hot enough. Grease little oil and pour one ladle of batter and
spread little gently. Cook from both side till to golden color. Do same with
whole batter. Chilla is ready.
Place little stuffing on chilla and fold it.
Stuffed Moong Dal Chill is ready to serve.
Enter your email address:
Delivered by FeedBurner