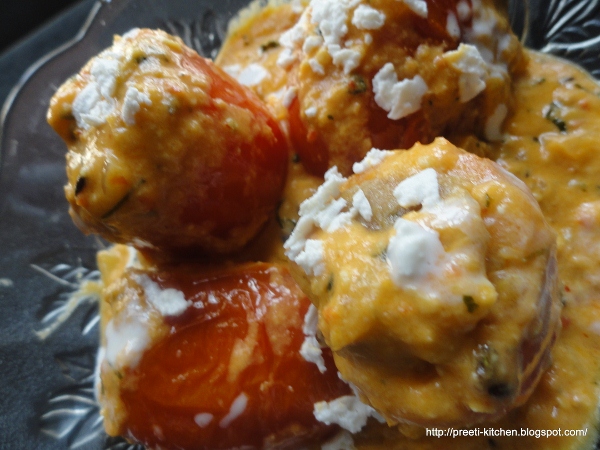 Last Updated on
After such a long
period, nearby 2 months……start participating in Blogging Marathon……Really miss
u lot to all my co-bloggers and her wonderful cuisines.
Now I'm again in
form with BM#18, these time I choose Stuffed Dishes theme…so here is my 1st
recipe….."Stuffed Tomatoes with Gravy" or "Bhurma Tamatar"….
Under this recipe,
we fry the tomatoes with stuffing and then serve the creamy and orangy gravy
which is very delicious in taste with naan or laccha prantha's. for more
details you can visit on my another recipe ie
Stuff Tomato Vada
.
Pictorial:
For Stuffing
4 Tomatoes
1 medium sized
boiled and mashed potato
2 tbsp. grated
cottage cheese
1 tsp. oil
½ tsp. cumin seeds
½ tsp. fine chopped
green chillies
1 tbsp. fine chopped
coriander leaves
Salt to taste
1/2 tsp. coriander
powder
1/2 tsp. red chilli
powder
For Gravy
1 medium sized onion
1 cup tomatoes puree
(3 tomatoes+2 green chillies+ 1 tsp. ginger)
1/4 cup cashew paste
1/2 cup cream
Salt to taste
½ tsp. red chilli
powder
½ tsp. cumin seeds
1 bay leaf
1 tbsp. clarify
butter or ghee
1/2 tsp. garam
masala
A pinch of sugar
1 tsp. kasuri methi
Enough water
For Garnishing
Whipped cream
Grated cottage
cheese
Direction
For Stuffing
Take a 3-4 red
tomatoes and scoop out the pulp. Keep aside for gravy. Now combine boiled and mashed
potatoes, grated paneer, fresh coriander leaves, green chillies, salt,
coriander powder and red chillies. Now heat the ghee in the pan on medium
flame. Add cumin seeds, when start
crackle. Add potatoes mixture and mix well for 2 minutes. Fill the stuffing in
each tomato equally. Grill the tomatoes in microwave or gas stove in wok as per
convenience.
For Gravy
Heat the ghee in the
non-stick pan. Add cumin seeds and bay leaf, when start splutter. Add chopped
onion and sauté till look golden brown. Now add tomato puree (Grind the tomatoes
pulp, green chillies and ginger together for fine puree), when tomatoes starts
leaving oil. Add spices and cashew paste
except salt and sugar, stir continuously for 5 minutes. Add sugar, cream and
enough water for thick consistency gravy. In the end, add salt according to
tastebuds. Gravy is ready.
For Presentation
Add tomatoes in the
bowl or plate…pour gravy on it sprinkle garam masala, grated paneer and cream. Ready
to serve hot with naan or prantha.
Submit this stuffed recipe with following events:
Blogging Marathon page for the other Blogging Marathoners doing BM#18