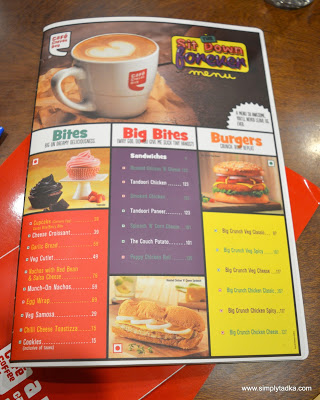 Last Updated on
Café Coffee Day (CCD), one of the largest
coffee retail chains in India, has brought another delicious twist for customers'
by introducing 'SuperMenu'.
SuperMenu' is collection of new and delicious
varieties of cupcakes, soups, sandwiches and burgers that CCD's offer for prestigious
customers.
The super flavorsome fun begins with two
slurp-y soup variants served with a side portion of garlic bread– the hot and
creamy 'Mushroom Marvel Soup' packed with the awesomeness of milled black
pepper and dairy foam. Another super soup in the menu is the 'Tangy Tomatina',
a fusion of juicy tomatoes and sweet bell pepper giving it a mouthwatering
twist. Personally I love the texture of thick and creamy tomato soup which served
in glass jar with buttery garlic bread, a great starting meal for ongoing
winter season.
Mushroom Marvel Soup
The indulgence continues with cupcakes –
'Berry Bite Cupcake' and 'Cocoa Cupcake'. With the sweet zest of strawberry and
chocolate enhanced with a frosting swirled to a creamy lush, these cupcakes are
created to charm the sweet spots. Adding to the fun is an irresistible range of
cakes and pastries as well – 'Hazelnut Carrot Celebration Cake', 'Pure
Indulgence Celebration Cake' and 'Cocoa Fantasy Slice Cake'.
Hazelnut Carrot Celebration Cake
CCD also introduced three new Big Crunch Burgers in vegetarian
and non-vegetarian options. Options are
veg classic, veg spicy and veg cheese burgers with flavorful and soft oatmeal
buns. One is chicken version burger with
grilled chicken patty and second is veg version which filled with baked potato
patties. Patties was crisp angood in taste, I tried veg one.
CCD has also unveiled a fiery range of
sandwiches to this special menu. The 'Chunky Chicken Roast Sandwich' packs
together perfectly roasted herbed chicken, onion rings and a cheese slice
wrapped in a crisp chipotle bread. Vegetarians can feast on the 'Couch Potato
Sandwich' made from potatoes smothered in gram flour and fried to perfection
meeting onion rings under freshly baked chipotle bread that tingles the taste
buds like nothing else. The 'Tandoor Chicken Sandwich' and 'Tandoori Paneer
Sandwich' are an added delight to this delicious and scrumptious range of
sandwiches that are sure to leave the food lovers asking for more.
Chicken Sandwich
Couch Potato Sandwich
The SuperMenu is meant to wow and bewitch
those who look for fun time spent over tasty treats. Starting at Rs.39/- the
SuperMenu treats are sure to be a hit with one and all. The special menu is
available in CCD outlets across Mumbai, Delhi, Bengaluru, Hyderabad, Chennai,
Ahmedabad, Chandigarh, Pune and Kolkata.
"Café Coffee Day thrives on the love and
loyalty we garner from the coffee lovers who consider our outlets their
preferred meet-up places. SuperMenu is our gift of the season to all the food
lovers, especially the youth, to ensure they have some super awesome time
treating themselves over a delectable range of options. The menu is
meticulously planned to balance the sweetness of cupcakes, tanginess of soups
and the savory appeal of sandwiches and burgers to create a wholesome
experience," shared Sanjiv Mediratta, Group
Advisor F&B Solutions, Coffee Day Global Limited.
About CCD:
CCD is India's
largest café chain in terms of number of café outlets as of December 31, 2014
(source: Indian Coffee Industry Overview, March 2015, Technopak ("Technopak,
March 2015")) and operates through Coffee Day Global Limited ("CDGL"), a
subsidiary of Coffee Day Enterprises Limited. CCD has pioneered the coffee
culture in the chained café segment in India (source: Technopak, March 2015)
and opened its first café in Bengaluru in 1996. CCD's menu ranges from a mix of
hot and cold coffees and include several food options, desserts and pastries.
In addition, CCD brand merchandise and accessories such as coffee mugs, coffee
machines, travel mugs, etc. are available at the cafés.
Tags: restaurants review, review, delhi restaurants, coffee
shops, café coffee day, supermenu, ccd, coffee, café chain, simplytadka.
Enter your email address: