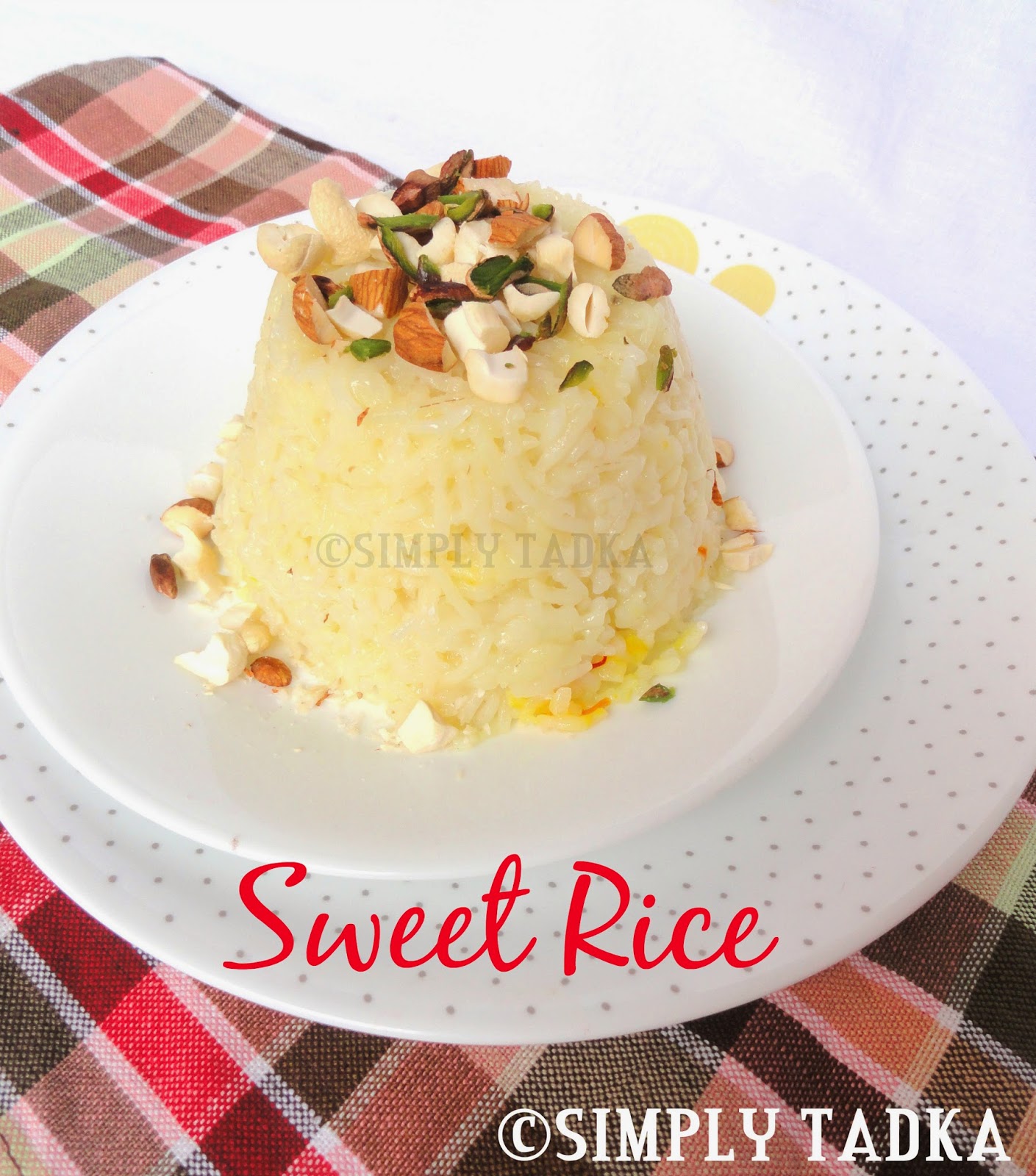 Last Updated on
Sweet Rice recipe is simple and delicious recipe of rice which made with milk and dry nuts. You can use fresh fruits also in this recipe like pineapple, mango, pears and more whatever you prefer. Generally we cook the rice with stock or water but in this recipe, we used milk. You can use Gur or jaggery instead of sugar which makes this recipe more tempting and healthy for health conscious people. Sweet Rice recipe is perfect or royal treat for everyone at any occasion of celebration or festival. So you can enjoy the sweet rice hot or cold.
Preparation Time: 15 Minutes
Cooking Time: 15 Minutes
Servings: 4
Category: Rice
Ingredients:
2 Cup Rice
1 Cup Milk
1 1/2 Cup Sugar
4 Tbsp. Desi Ghee/ Clarifying Butter
1 Tsp. Cardamom Powder
10-12 Saffron strands
1 Cup Mix Dry Nuts, Chopped (Cashews, Raisins, Almonds, Pistachios)
Instructions:
Wash and soak the rice in water for 15 minutes.
Heat ghee in the pressure cooker on medium flame, add chopped nuts and rice. Saute for 5 minutes in ghee.
Add milk, 3 cup water, cardamom powder, saffron and sugar and mix it. cover with lid and cook on medium flame till to 2 whistles.
Remove from the flame and garnish with chopped nuts and desi ghee and serve hot.
Notes: You can cook this recipe in microwave too, and adjust the sugar level as per taste. You can add the fresh fruit also like pineapple, apple and mango etc.
Tags:how to cook sweet rice, meethe chawal recipe, dhoodh ke chawal, festival recipe, rice recipe, milk recipe, sweet recipe, how to prepare milk based rice in cooker, Basmati rice recipe.
Enter your email address:
Delivered by FeedBurner