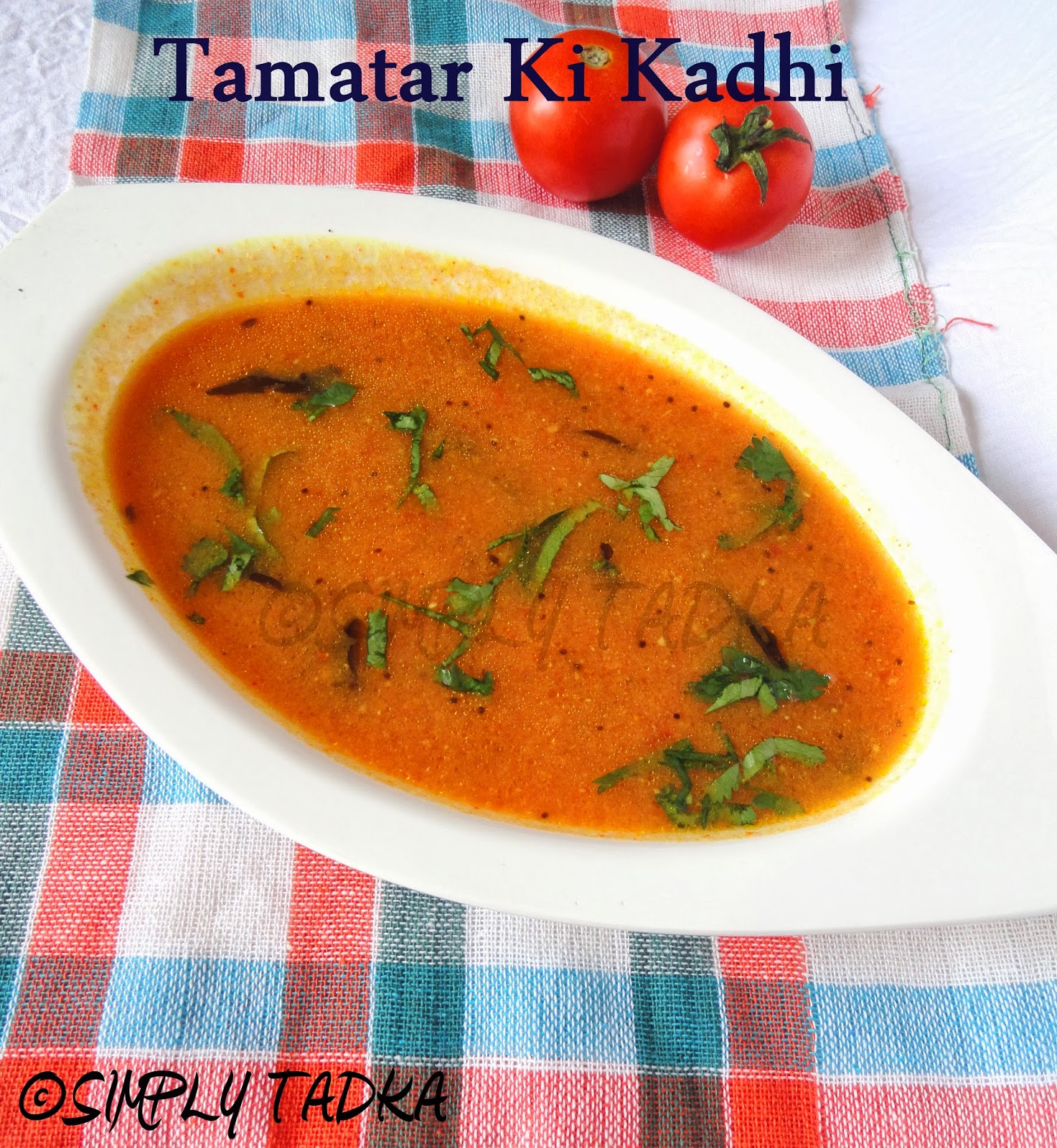 Last Updated on
Tamatar ki
Kadhi is spicy and tangy dish which served with plain rice and aloo curry. For
this recipe, you have to combine the tomato puree with spices and gram flour
and cooked this batter on simmer flame for 5-10 minutes. Tamato kadhi is easy
to cook recipe from Rajasthani cuisine and served with rice or parathas.
Preparation
Time: 15 Minutes
Cooking
Time: 15 Minutes
Servings:
4
Category:
Dal and Kadhi
Ingredients:
4 Medium Tomatoes Puree
1 Tbsp. Gram Flour
Salt to taste
1/2 Tsp. Turmeric Powder
1 Tsp. Coriander Powder
1 Tsp. Red Chili Powder
Green Coriander Leaves, chopped for
garnishing
For
Tempering
1 Tbsp. Oil
1/2 Tsp. Mustard Seeds
1/2 Tsp. Cumin Seeds
5-6 Curry Leaves
Pinch of Asafoetida
2-3 Dried Red Chilies, whole
Instructions:
Combine tomato puree, salt, coriander
powder, turmeric power, red chili powder and gram flour together in separate
bowl. Add 2 cup of water and whisk it.
Heat the ghee or oil in non-stick pan,
add tempering ingredients.
When they starts splutter, add tomatoes
mixture and stir continuously on medium flame.
Cook the kadhi for 10-12 minutes on
medium flame.
Garnish with coriander leaves and serve
hot tamatar ki kadhi with rice.
Tags: how to prepare kadhi, kadhi recipes, tamatar kadhi
recipes, tomato kadhi, tamatar recipes, tomatoes recipes, Punjabi cuisines,
spicy kadhi recipes, how to cook tamatar kadhi recipes, dal and kadhi recipes.
Enter your email address:
Delivered by FeedBurner