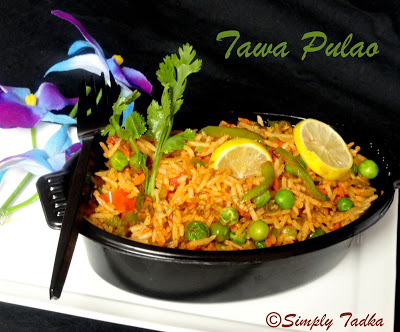 Last Updated on
Tawa
Pulao is very popular street food in Delhi and Mumbai. Tawa Pulao as name
suggests, it's made on tawa. The street vendors have big tawa which most
probably used for pav bhaji or hot dog type of street food.
Tawa pulao is a
quick recipe which made with par boiled rice or leftover rice. You have to cook
the rice and vegetables together and sauté with masala on tawa. Generally street
vendors used butter and pav bhaji masala to make this pulao that enhance the
taste more and little spicy in taste. I made this recipe for blogging marathon
under Indian cuisine theme, hope my foodie friend like it and share feedback.
Tawa Pulao – Delhi
Street Food
Preparation
Time: 15 Minutes
Cooking
Time: 20 Minutes
Servings: 4
Category:
Rice
Ingredients:
2 Cup Basmati Rice, Cook
2 Cup Carrot, Capsicum, Peas
2 Large Onion, Sliced
1 Tsp. Ginger chili paste
2 Large Tomato, Chopped
Red Chili powder to taste
2 Tsp. Pav Bhaji Masala
Salt to taste
Half Lemon Juice
Handful Coriander Leaves, Chopped for
garnishing
2 Tbsp. Butter
1 Tsp. Jeera
Instructions:
Heat the butter in non-stick pan on medium
flame.
Add jeera when they starts splutter, add
sliced onion and ginger chili paste and sauté until translucent.
Add chopped tomatoes, pav bhaji masala, red
chili powder and stir continuously till to soft.
Add boiled peas, chopped carrots and capsicum
and sauté till to soft.
Add salt, cooked rice and mix well. Add lemon juice and coriander and mix it.
Serve hot tawa pulao with curd or raita.
Notes: You can boil or microwave the vegetable
separately for quick cooking.
Tags:
How to prepare tawa pulao recipe, tawa pulao recipes, rice recipe, basamati
rice recipe, pulao recipe, street recipes, lunch dinner meals, brunch meals,
main course recipes, leftover rice recipes, tiffin recipes, lunchbox recipes,
vegetarian recipe, simplytadka recipe.
Check out the Blogging Marathon page for the other Blogging Marathoners doing BM# 56
Enter your email address:
Delivered by FeedBurner