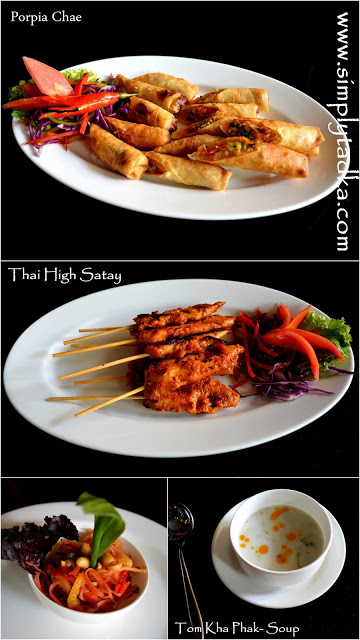 Last Updated on
Mosaic Hotels proudly presents the tempting flavors
of Thai cuisine. During the month of February, Chefs and talented team of mosaic
will spice up your taste buds with authentic Thai delicacies at Flluid and
Latitude. These authentic dishes are perfect blend of ingredients that
tantalize and balance the taste with bursts of sour, sweet, salty and tangy
flavors as well as interesting textures. The distinctive strong aromatic herbs
and spices make these cuisines extremely tempting.
The complete meal will be offering a traditional
Thai special 3 course culinary experience comprises of Appetizer, Main Course
& Desserts. Appetizer will have a wide variety of salads, soups and
specialties like Thai High Satay, Kai Krob, Pla Nung Makham, Porpia Chae (spring roll), Tom Kha Phak- Soup with coconut milk, vegetables and galangal, Som Tam- Spicy raw papaya salad and
Satay Che to choose from.
The main course will comprise of sumptuous dishes
like Thai High Chicken (Non Vegetarian dish made with pieces of chicken tossed in Thai high special sauce),
Pla Tom Som (Poached fish with ginger, lemon grass and red onion),
Phad Kraphawed Plik Sod (Vegetarian recipe made with Mushroom in sweet basil with fresh green chili),
Khao Phad Kraphaw (Spicy fried rice with hot basil in a choice of chicken or vegetables),
Thai Flat Rice Noodles with choice of chicken or vegetables, Steamed rice and Jasmine rice.
It is followed by mouthwatering desserts like
Coconut Mint Souffle, Sticky Rice Pudding and choice of ice creams. I tried Coconut Mint Souffle which prepared with egg white, cream, coconut flakes and mint….creamy texture dessert served in stem glass and garnish with chocolate curves and fresh mint sprigs.
Flluid is a restaurant cum bar located at Mosaic
Hotels, Noida offers a luscious range of modern cuisine, ambience and privacy.
It boasts of an urban design lounge bar, offering all that one could ask for,
the great options of mocktails, cocktails, selection of international spirits,
wine, beers and liquors. It includes lavish buffet served for Breakfast and
Lunch, along with a sophisticated a-la carte menu. The Exclusive Private Area
is equipped with a fully movable set up that can be fine-tuned as ones mood
proposes. Flluid is open all seven days from 11 a.m. in the morning till 11.00
p.m. night.
Latitude is the specialty restaurant of authentic
Indian delicacies, located at Mosaic Hotels, Noida. The plush ambiance with
modern elegant designs strongly inspired by ethnic Indian sensation evokes a
far-fetched aesthetic rapture in different ways.
Come to Mosaic and savor scrumptious Thai food
at a very exclusive price from 8th to 14th February 2016 from 11AM to 11PM. The
exotic Thai food would cost Rs. 999+taxes for two people.
For reservations, please contact: 9650711665 or
9560599400
Tags: Thai food, Thai cuisine, Mosaic, Noida, review, restaurant, food fest, international cuisine, chicken, fish, noodles, flluid, simply tadka, souffle.
Enter your email address:
Delivered by FeedBurner