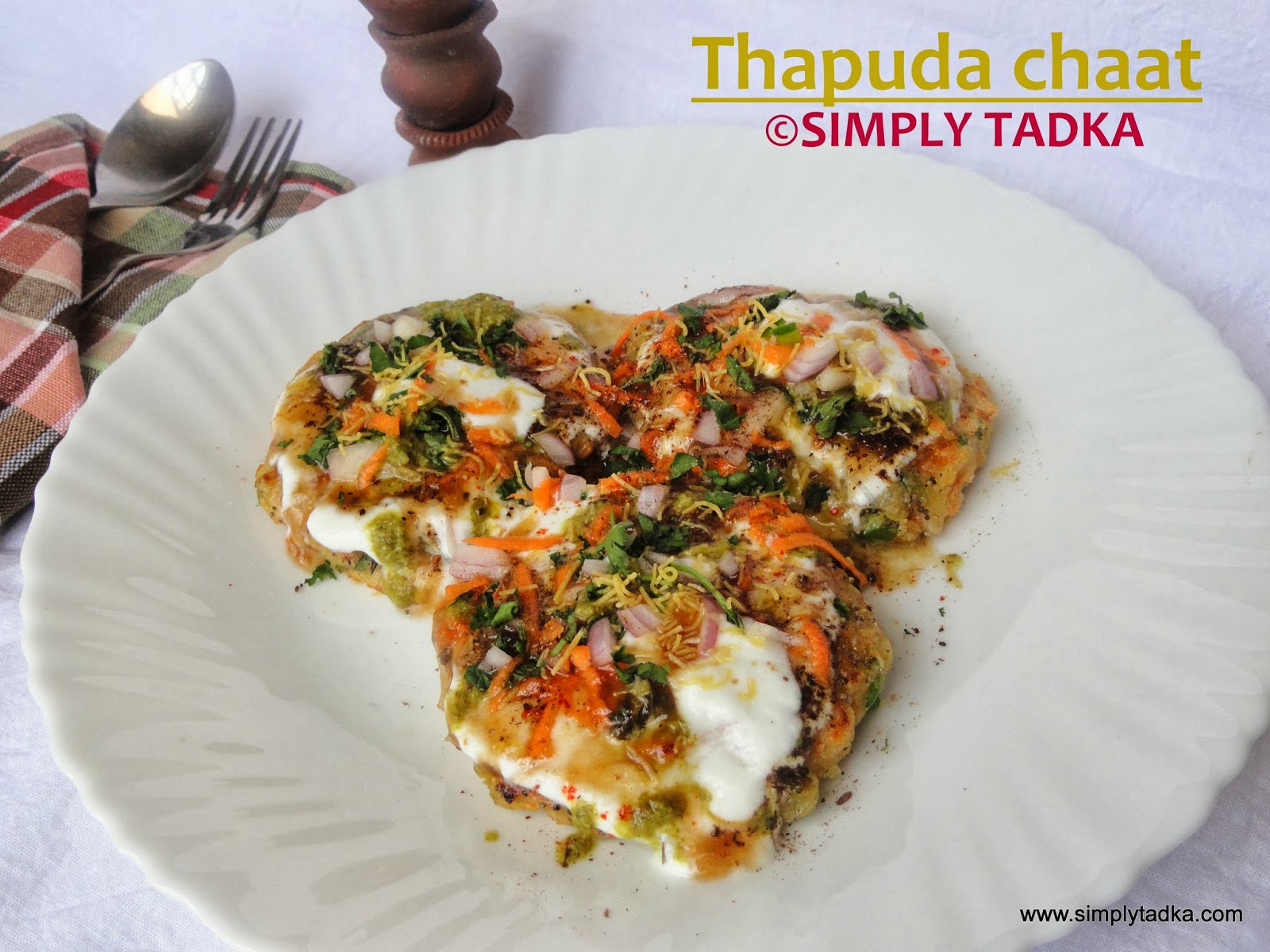 Last Updated on
This time I shared "Thapuda Chaat", get
this idea through one regional TV Show. Two years ago, I saw thapuda chaat
recipe in this show which attracts me lot. Now I get the chance to explore this
recipe in my kitchen and share in my blog with readers. This cakes are really
so tasty and spongy. These cakes are healthier more than potato cakes or tikki.
Thapuda chaat is platter of semolina and curd,
based cakes and serves with sauces and curd as spicy street chaat. This is my last recipe under street food
category for BM#32 ABC Series. I choose carrots, onions and capsicum for this
cake.
Here is list of all six recipes under
street food:
Preparation
Time: 30 Minutes
Cooking
Time: 20 Minutes
Servings: 3
Category:
Street Food
Ingredients:
1 Cup Semolina
1/2 Cup Curd
1/3 Cup Onion, finely chopped
1/3 Cup Carrot, grated
1/3 Cup Green Bell Pepper, finely chopped
2 Green Chilies, finely chopped
2 Tbsp. Green Coriander, chopped
1 Tsp. Ginger, grated
1/2 Tsp. Fruit Salt
Salt to taste
1/2 Tsp. Black Pepper
For
Tempering
2 Tbsp. Clarifying Butter/ Oil
1/2 Tsp. Mustard seeds
4-5 Curry leaves
For
Garnishing
Curd
Sweet tamarind Chutney
Green Coriander Chutney
Roasted Cumin Powder to taste
Black pepper Powder to taste
Salt to Taste
Chaat Masala to taste
Red Chili Powder to taste
Sev
Green Coriander, chopped
Instructions:
Combine the curd and semolina in bowl as
thick consistency batter and keep aside for 15 minutes.
Finely chop the onion, carrots, bell pepper,
coriander and chili.
Combine the chopped vegetables, ginger, salt,
black pepper in curd mixture as fine paste.
Heat the ghee or oil in non-stick pan, add
mustard seeds and curry leaves.
Add fruit salt in paste and mix well.
When mustard starts splutter, place the
spoonful batter in pan.
Cover it for 10 minutes to cook completely.
Flip it and cook again another side till to golden.
Follow the same procedure with remaining batter.
Now time to plating, Place the two to three
cakes in one plate.
Spread curd, sweet chutney and green chutney.
Garnish with chopped onion, coriander and
sev.
Sprinkle chaat masala, salt, red chili powder
and roasted cumin powder.
Thapuda chaat is ready to serve.
Note:
Semolina and curd ratio must be 2:1.
You can replace the vegetables as per choice.
If you want to skip the fruit salt, just keep
the semolina and curd batter for 4-5 hours to ferment.
Enter your email address:
Delivered by FeedBurner