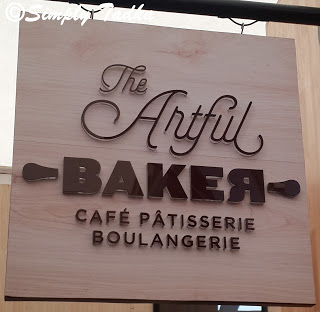 Last Updated on
The Artful Baker started a new baking venture
as a bakery and café in India. Currently open as a popup at Square, Select City,
Saket till to 2nd Aug where French desserts and baking stuffs are
available to taste. Delicious French bread, cheese croissants, ham and cheese
croissants, macrons, cakes, muffins, lemon tart and sandwiches are available at
affordable prices, all are creation of Chef Sahil. All items are so tasty and
delicious and completely 100% secured on the basis of quality and authenticity.
I got the chance to taste Monte Cristo, Salty
Macrons and Cheese Croissants with Chef Sahil. Monte cristo is one of mine favorite
which made with dark chocolate, French cream and almonds and love the bottom
layer which gives crunchiness to this dessert with French wafer. Macrons also made with caramel and last I tried
croissants.
The Croissants are fluffy and buttery, easy
to chew and love the taste of cheese filling. Sahil told me, used all
ingredients are import from French to get traditional and original taste in
each and every recipe. They will also plan to do home delivery and even online
delivery too.
I love the name of brand Artful Baker. For me baking is an art which needs lots of passion
and creativity. Chef puts lots of effort behind every item, all are looks
fabulous.
A person behind this artful baker is Chef
Sahil, India's first certified bakery, pastry and chocolate expert from
Lenotre, France and already worked with many renowned patisserie brands such as
Choco Diva, Renaissance and Lopera.
Brand Chef Sahil said "I would love to attend the customers
personally, present the delicacies and welcome meaningful feedback. The Artful
Baker aims to create a culture of all day dining, easy drinking, and laidback
weekends for people who appreciate good food and good life. The Artful Baker is
on the go to buzz the sweet appetite."
The Artful Baker will soon pan out into a complete
Café in the next month, including a delicious range of breakfast &
bakeries, salads and sandwiches, pizzas, mains & grills, picnic baskets,
desserts, refreshing drinks and a selection of beers & wines.
Mr. Rohit Aggarwal, Director, Lite Bite Foods
said, "A fashionable rise of high trend
patisserie is certainly official in India. Our trained culinary team has
developed a one-stop-shop for your favorite macaroons, muffins and breads. The
Artful Baker will offer great flavors in less calories, less guilt and is also
not too pricey. It's essential that we offer the best in class delicacies for
everyone."
The menu at The Artful Baker will include
Multigrain, French Peasant, Whole wheat breads, Ham & Cheese Croissants,
Whole Wheat Pesto Paneer & Chicken sandwiches and some signature desserts
like Chocolate, Raspberry and Salty Macaroons, Lemon Tart, Double Chocolate
Chip Muffin and Paris Brest which are sure to tingle ones sweet tooth. The
Artful Baker offers the best of Artisanal breads & patisserie, combining
authentic techniques with quality ingredients. The dishes have been carefully
crafted and the ingredients are selected keeping in mind the health conscious
minds.
Heartiest wishes for bright future………….
Enter your email address:
Delivered by FeedBurner