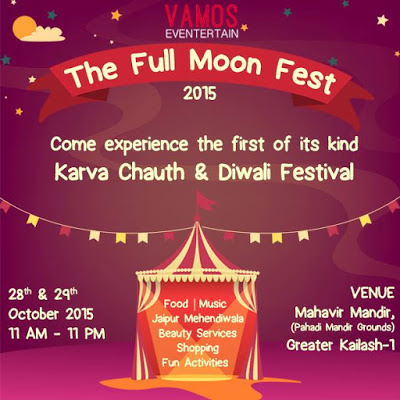 Last Updated on
Vamos
Eventertain hosted "The Full Moon Fest" on 28th and 29th of October
2015. It was a first of its kind event that marked the beginning of
celebrations for Karva Chauth and the long festive season ahead. The Event went
on in full swing for both the days at the Mahavir Mandir in Greater Kailash-1.
It was sponsored by Affinity Salon which was the official beauty partner;
Champalal Jewellers and Hiranyam M. Rajsons, the official jewellery partners;
AMS was their official matrimony partners and the evening was powered by Armaan
Building Solutions, Pzone and Microfilter.

The Event
attracted a lot of crowd from all over Delhi, including popular bloggers,
social butterflies and influencers. This glitzy affair was comprised of many
fun-filled activities that catered to Women, Men and kids alike. Since every
event in India is incomplete without a vast array of food, it was well taken
care of. There were mouth-watering multi-cuisine food stalls by Dominos Pizza,
Food Craft, Tea Time Tale, Khomcha, and ZI-FU in addition to several others
that served delicious Food & Beverage options at the event. Crush Fitness
engaged everyone and pumped energy into them at the event with their Zumba
moves. Cook Gourmet, which is a gourmet ingredient delivery e-commerce, conducted
a very interesting live-cooking workshop at the event where they demonstrated
the ease of cooking fine dining recipes at home.
To add a
touch of glamour to Karva Chauth, which was on the very next day, the Festival
event had a spectrum of services for the ladies. The offers and services
included special Mehendi sessions on both days with artistic mehendiwalas from
Jaipur, along with exclusive bangles & bindis by Vamos and complimentary
makeovers at the walk-in salons by Glam Ivy and Bottega di LungaVita. Designer
jewellery, accessories, nail art, cosmetics, handicrafts, and a wide range of
elegant ethnic apparels were all available at the event to delight every lady
present there. All these were taken care of by the likes of Make-up house,
Accessory Galore, Design Hub, Zaara Creations, Cardelicious, Pehnav et cetera.
The Full
Moon Event catered to everyone drifting in, alike. There was a play arena
for children, an assortment of gifting items for the upcoming festivities, in
addition to groovy music to swoon at. A fun session of Tambola was organised
and there were multiple quests that continued on both days, to win many
exciting bumper prizes and lucky draws. The event provided valet parking
services. People who attended the fest had a great time and were more than
happy about it. They did not only go back with just happy memories but also
with plenty of goodies.

The Full
Moon Fest will be back next year with much more excitement and activities. If
you missed it this time around, make sure to attend it next year for sure.
For
this event, I was invited by Kleos Consultancy on behalf of Cook Gourmet. Whole
event organized very beautifully and love the food. Thanks for wonderful
evening and lovely goodie bag, which includes discount vouchers, accessories
and more things.
Enter your email address:
Delivered by FeedBurner