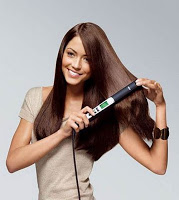 Last Updated on
Everyone knows hair looks are essential part of life style….. For
great personality, you have to great hair texture and style. Now a day's
straight hair style is in demand
Go for hair salon and do temporary
or permanent straightening/ rebonding treatment with branded and good quality
products.
Use a straightening machine for
the perfect straight hair.
Do partition and combo it. Keep
your hair on the towel and now do iron carefully. Take care about temperature of
iron too… Not too hot.
Heat
coconut oil or olive oil and after it becomes lukewarm, apply them exactly on
the scalps. Massage the scalp with the heat oil now cover the head by using a towel
(Rinse a towel in hot water, wipe) and
leave it. Repeat this towel process 2-3 times. Now wash your hair with shampoo, check the
difference after washing your hair. This way you can get a straight hair.
Apply egg twice a month for
15-20 minutes and wash with cold water. Now your hair will be soft, silky and straight.
Wash hair with lemon juice, for
this take 1 mug lukewarm water and add 1 whole lemon juice (clean) and mix
well. Now pour complete mug of water on hair after shampoo wash. It's good for
hair as straight part and also for great fragrance.
Soaked Indian gooseberry (amla)
and acacia (shikhakai) in the water overnight and drain it. Wash hair with this
water, for great result of straight and shiny hair.
Use Road Roller: If you know any construction
location or constructed road area then you will find road roller on free of
cost. Lie down on ground with forward hair. Run the road roller at own risk but
you can get straight hair.
Use No. of Encyclopedias: There are many books in the
house especially subjective or encyclopedia, lie down and put heavy weighted
encyclopedias on hair. It's a good and cheap way to get the straight hair.
Use Spray or Gel: Use spray or gel and comb it…
now hairs are ready for perfect straight look.
Visit
at Stormy Place: Go for stormy place,
at the time of strong air going on…. Your hairs become straight.
Use Marbles: Tie the marbles at the end of
hairs edges tightly for whole a day and you will get straight hairs.
Use CartoonBox: Use full of cartoon box with
heavy material or bundle or old newspapers on hairs and sleep well. When wake
up, you will get straight hairs.
Use Rolling Pin/ Roti Maker Machine: Lie down your hair on ground
for rolling pin or keep your hairs on roti maker machine, when hot enough. You will
get effective result for straight hair.
Use Bed Mattresses: Keep your hair under the bed mattresses
and watch Salman khan's movie. When movie will over, you will get straight
hair.
Use Clothe Clips or Hanger Clips: Wash your hair and hang with
clips under the sunlight. You will get straight hair soon.
Make Comb and wet your hands.
Now put your wet hands into any electrical on plug, you get electric shock but
as result your hair will get straight.