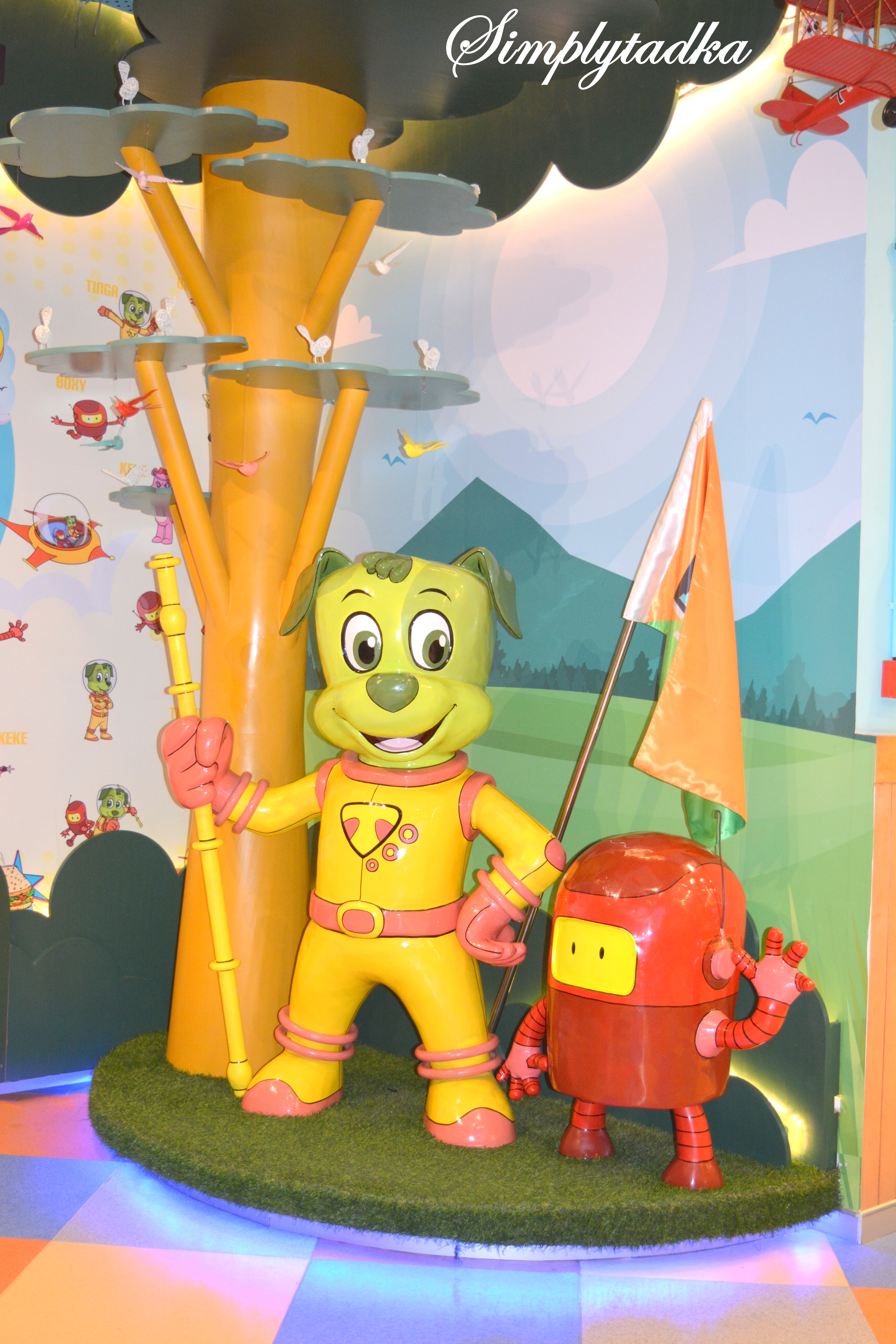 Last Updated on
Driven by the needs of today's young parents and kids, we have created this one of its kind product to PLAY, PARTY AND LEARN.
Tingaland is the only #unwired place where we look up to keep kids learning through fun with no-tech activities to do for their intellectual and social development. The more they #goplay and burn their energy in physical activities, the better they learn. Seeking #joysoflife for #HappyParents and #TingaSuperstars, this place has been perfectly designed to engage them in an interesting and imaginative play way.
Tingaland is an aesthetically planned play space for children that integrates learning and fun together with a lot of adreline rush. To give an idea, we are talking about a play area of 3000 to 4000 sq ft that's been carefully designed for toddlers and kids from age group 1 to 10 years. Targeting almost 5000 mother and 5000 kids every month, the play zone is located at The Starling Mall, Sector 104, Noida. Equipped with plethora of games and activities to keep kid engaged and entertained, Tingaland also spaces Tinga Cafe for birthday and party celebrations.
With the theme of experiential learning, Tingaland – a magical land is conceptualized around various fun zones facilitated with safe and free play for kids, nurturing their creativity and imagination.
Tinga Activity Zone
Tinga Toddler Zone
Tinga Art and Craft Centre
Tinga Wall Climbing
Tinga Cafe
Tinga Night Camps
A never before experience for #TingaSuperstars and their #HappyParents.
Rules and Regulations
Read the rules and enter Tingaland for a thrilling, delightful and memorable visit.
Playzone Time : 11:00 am – 8:00 pm
Height Requirements : Tinga Toddler'sZone ( 1.5 to 3 years ) up to 100cms
Tinga Activity Zone (3 to 9 years) – 100cms to 165cms
Playtime : 90 minutes per session, Overstay will be chargeable.
Register : Name of the #TingaSuperstar and the #HappyParent with our staff at the front office.
Entry and Exit : Register your time of play with the Tinga Crew on your wristband.
Socks are mandatory for both, #TingaSuperstars and the #HappyParents at Tinga Toddler Zone and Tinga Activity Zone, respectively.
Not Permitted: Food & Beverages, Glassware, Chewing Gums, Candy, Jewellery, Keys, Sharp objects, Metal items, Loose items, Electronic gadgets ( Mobile Phones, Tablets, Cameras, etc )at the Tinga Toddler Zone and Tinga Activity Zone.
#HappyParents are requested not to venture in Tinga Activity Zone.
Shoes are not allowed at Tinga Toddler Zone and Tinga Activity Zone.
Outside photographers, decorator, food & drinks are not allowed.
Follow one child and one adult ratio.
Pregnant women, in advance stage are not allowed at Tinga Toddler Zone and Tinga Activity Zone. Even otherwise, women in early stage of their pregnancy should avoid activities, if so advised by Doctors.
#HappyParents should refrain themselves from using the equipment in play area as the same has been designed and dedicated for children only and is not intended for adult use.
Safety & Precautions
Arms & legs must be covered at all times to avoid injuries., likely to be caused due to grazing or rubbing. Children are encouraged to wear trousers or leggings.
#TingaSuperstars and #HappyParents should adhere to the instructions given by the Tingaland crew.
No climbing on nets.
#TingaSuperstars should always slide sitting up with feet down. Never slide with head first on their back or stomach.
Running up the slides is not permitted.
Slide run off areas should be kept clear. Exit the Slide Run off areas as soon as the child reaches the bottom of the slide.
#TingaSuperstars are advised to remove their glasses or contact lenses before entering the play area.
Play with SAFETY in mind at all times.
#HappyParents must keep an eye on their wards to avoid any possible self inflicted injury. Though the crew of Tinagaland will take all necessary possible precaution to avoid any injury to the kids but, in no circumstances, they can be held liable for any such injury, caused to the kids, due to circumstances beyond one's control.
The Play zone reserves the right to cancel playtime in case the Rules, are violated.
Tingaland accepts no liability for injuries, nor will it entertain any claims for damages and losses, resulting from the use of the Play zone.
Go Play!
Please mention the following aspects of tingaland in the blog
1- Tie-up With Kwality so rest assured of the taste and hygiene
2- Birthday Party Joint
3- Night Camping Activities
Playtime is best for kids when an enamored storytelling session comes along with it.
Tingaland, the most unwired place for kids has started the night camping experience with storytelling sessions believing that today it is required for their growth and mental development. We are using the power of storytelling to stimulate creativity in young minds and help them think about the limitless possibilities that stories offer. Weaning them away from gadgets and technology, these engaging storytelling sessions motivate their reading habits.