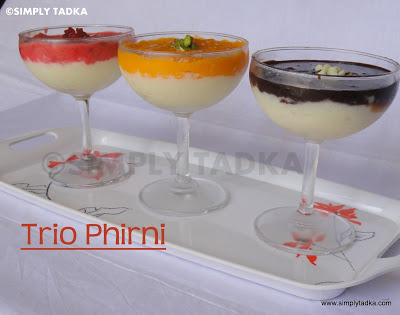 Last Updated on
Today I post "Trio Phirni" with three different
flavors i.e. Mango, strawberry and chocolate. Under this recipe we have to make
three different purees with chunks of mangoes, strawberries and chocolate. I prefer to use chocolate sauce but you can use melted chocolate or
nutella chocolate too.
For phirni, you can use rice flour also instead
of grind rice but personally I always use grind rice with milk gives little chunky
and bity look to phirni which enhance the taste.
Last time when I post gulab phirni, which was also
a great festive treat and you can prepared with any flavor or serve as simple
phirni as chilled dessert. It's really a big hit as a dessert in party or in
special occasion and sure guests will enjoy a lot. Please share your lovely suggestion in every
recipe which motivates me more.
Preparation time:
20-30 Minutes
Cooking time:
20 Minutes
Serving: 6
Glasses
Ingredients
1/2 Cup Rice, Soaked
1/4 Cup Semolina
3 Cup Milk
1/2 Cup Condense Milk/ Khoya, Grated
1 Tsp. Cardamom Powder
2/3 Sugar Powdered
For Strawberry

1 Cup Strawberry, Chopped
1 Tbsp. Sugar
Little Tutti frutti for Garnishing
For Mango
1 Cup Mango, Peel and Chopped
1 Tbsp. Sugar
Few Pistachios for Garnishing
For
Chocolate
1 Cup Chocolate Syrup
Few White chocolate chips, for Garnishing
Pictorial
Direction
Soak the rice into water for 20-30 minutes. Drain
the water and grind rice with little milk till to smooth consistency paste. Boil milk on medium flame, when milk starts
boiling. Add grated khoya, rice batter, semolina. Stir continuously till to
smooth consistency.
Add cardamom powder and sugar and mix well. Pour
this phirni into three individual glasses for different flavors. Place in to
freezer for half an hour to set as a first layer.
Now blend strawberry with sugar separately,
blend mango with sugar separately. Set as top layer of strawberry on phirni
glass and mango puree on another glass as top layer and chocolate syrup with
third one. Again keep in freezer for half an hour to set.
Garnish with strawberry flavor with tutti
frutti, mango with chopped pistachios and chocolate with white choco chips and
serve as chilled dessert.
Enter your email address:
Delivered by FeedBurner