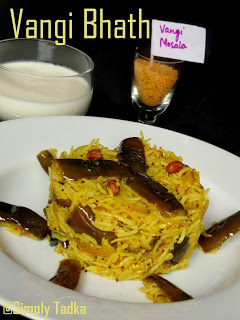 Last Updated on
Vangi Bhaat or brinjal rice is stir fried rice recipe which made
with cooked rice, brinjal halves and flavorful Indian
spices. I love the flavor of brinjal, spices and tamarind in this rice recipe which served with curd or raita. I heard about vaangi bhaat recipe which is very popular in Maharashtra cuisine. That's the main reason I choose vaangi bhaat recipe for Blogging
Marathon under Indian cuisine theme.
For this recipe I made fresh vaang bhaat masala at home with
few ingredients which are easily available in every Indian kitchen. Here is the
list of vaangi bhaat masala is urad dal, chana dal, coriander powder, pepper
corns, coconut, red chilies. You can store this powder for long time in
airtight jar.
Vaangi Bhaat- Brinjal Rice
Preparation Time: 30 Minutes
Cooking Time: 30 minutes
Servings: 4
Category: Rice
Cuisine: Maharashtra Cuisine
Ingredients:
For Vangi Masala
6 Red
Chilies, Dried
2 Tbsps. Chana
dal
2 Tsps. Urad
dal
2 Tsps. Coriander
seeds
10 Pepper
corns
4 Tbsps. Coconut,
grated
For Vangi Bhaat
2 Cup Rice,
Boiled
15 Small Brinjal,
halves
2 Small
Sized Onion, Sliced
2 Tbsps. Vangi
Bhaat Masala
1 Tbsp. Tamarind
Paste
2 Green
Chilies, chopped
1 Tsp. Ginger,
Grated
1 Sprig Curry
Leaves
1 Bay Leaf
1/4 Tsp.
Asafoetida
1 Tsp. Mustard
Seeds
1 Tsp. Urad
Dal
1 Tsp. Chana
Dal
1 Tbsp. Peanuts
1/2 Tsp. Turmeric
Powder
Salt to
Taste
1 1/2
Tbsps. Oil
Instructions:
Dry roast all the ingredients of masala on medium flame
except coconut till to golden. Now add coconut and give a stir. Allow these
ingredients to cool at room temp and grind them into a fine powder consistency.
Now vaangi bhaat powder is ready to use.
Heat the oil in a kadai, Add bay leaf, asafoetida, mustard
seeds, urad dal, chana dal and peanuts. Saute till to crackle.
Add ginger, chilies, curry leaves and onion and sauté few
minutes.
Add brinjal, turmeric powder and salt and mix well.
Add tamarind paste and little water, give a quick stir.
Cover with lid and cook brinjal till to tender. Add vangi
bhaat powder and mix well.
Add cooked rice and mix well. Cook the rice for 5 minutes on
low flame.
Serve hot with raita or curd.
Tags: Vaangi bhaat, vangi baath, Vangi
bath, eggplant recipe, rice recipe, main course, brinjal recipe, simplytadka,
lunch meal, tiffin recipe, lunchbox recipe, blogging marathon, vangi masala, Maharashtra
cuisine, indian food, indian recipe, vegetarian recipe, indian cuisine, brinjal
rice
Check out the Blogging Marathon page for the other Blogging Marathoners doing BM# 56
Enter your email address:
Delivered by FeedBurner