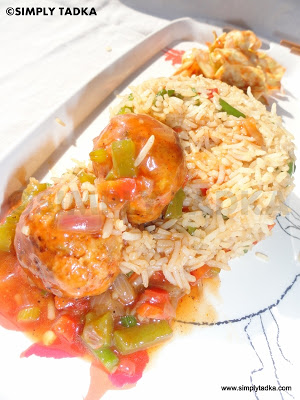 Last Updated on
Today I post
"Vegetable Gravy Manchurian with Fried Rice", for this recipe we have to
prepare fried veg. balls with gravy which prepared with sauces and vegetables.
Manchurian can accomplish with fried rice and cabbage salad.
On the 4th
day of occasional food theme under blogging marathon, gravy Manchurian with fried
rice is great option to serve in party as a starter or as a main course. It can
be heavy meal which liked by everyone either adults or kids. It's a very easy
to prepare and serve. You can prepare vegetable crunchy balls and gravy separately
before the party start and can serve hot and compile after guest will come at
place.
Preparation time: 30-40 Minutes
Cooking time: 30 Minutes
Servings: 3 Persons
Ingredients
For Gravy Manchurian
2 Cup
Cabbage
1 Cup Carrot,
finely chopped
1 Cup
Capsicum, finely chopped
1 Onion, finely
Chopped
1 Green
Chili, finely Chopped
1 Tbsp.
Coriander Leaves, Chopped
2 Tbsp.
Corn-flour
1Tbsp. All Purpose
flour
1 Tbsp. Soya
Sauce
1 Tbsp.
Green Chili Sauce
1 Tbsp.
Tomato Ketchup
1/4 Tsp.
Ajinomoto
Salt to
taste
1/4 Tsp.
Sugar
Black Pepper
to Taste
1 Tbsp.
Olive Oil
Vegetable
oil for deep frying
For Fried Rice
Rice, Boil
1 Capsicum,
Chopped
1 Onion, Chopped
1/2 Cup
Carrot
Salt to
taste
1 Tbsp.
Olive oil
Few drops of
Soya sauce
For Salad
1/2 Cup
Cabbage,
1 Tbsp. Red
chili sauce
Salt &
Pepper for seasoning
Direction
For Gravy Manchurian
Chop finely
2 cup cabbage, 1/4 cup of carrots and capsicum in food processor. Add veggie, salt,
all-purpose flour and 1 Tbsp. corn-flour in one bowl. Combine and knead as
soft. Divide the dough into equal portions and roll it in small bowl. Heat the
sufficient oil on medium flame. Deep fry this ball till to cook and golden.
Heat the olive
oil in another pan and add onion. Sauté onion and green chili till to translucent,
add remaining capsicum and carrots. Add all three sauces in one bowl with 1/2 Cup
water and mix well. Add this sauce mixture into pan and seasoning with
ajinomoto, salt and black pepper. Add 1 tbsp. cornflour with 1 Cup water and
mix well. Add this cornflour batter into pan and cook for next 10 minutes and
add golden balls in gravy and garnish with green coriander or green onion. Now
hot Manchurian with gravy is ready to serve with fried rice.
For Fried Rice
Chop the
vegetable in small dice form. Heat the oil in frying pan and add onion. Sauté
for 2 minutes and add capsicum and carrot. Add salt and few drops of soya
sauce. Cook 5 minutes more till to little soft. Now add cook rice and mix well.
Fried rice is ready to serve.
For Salad
Chop cabbage
and combine all ingredients together in one bowl. Now salad is ready to serve.
Blogging Marathon page for the other Blogging Marathoners doing BM#27

Enter your email address:
Delivered by FeedBurner